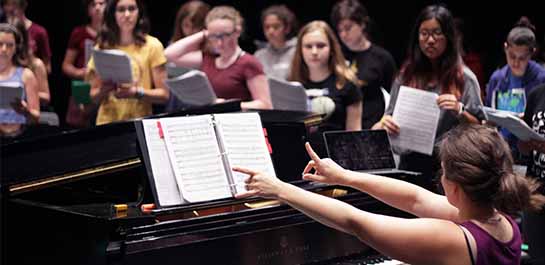 SUMMER 2020 INFORMATION WILL BE AVAILABLE IN JANUARY
MUSICAL THEATER VOCAL BOOTCAMP
"Singing With Style"
Young singers and actors will join vocal instructors, acting coaches and choreographers from Mason Community Arts Academy/Acting for Young People, for a week of musical theater skill building! Students will focus on vocal technique, choreography, and acting as they celebrate the tradition of Broadway and popular music. The program will culminate in a lively presentation in Mason's professional Harris Theatre.
SEE SUMMER 2019 BLOGPOST – coming soon!
Ages:  7-11 years & 12-18 years
Dates:   Depends on age group (see below)
Times:   9:00 a.m.–4:00 p.m. (M-F)
Tuition: $375
Location:  Mason Fairfax Campus, Harris Theatre
An "After Care" option is available for this program from 4-6 pm for $90/week, located in Mason's Performing Arts Building and staffed by the Academy's Summer Staff. After registering for this program (but before final checkout/ payment!), search for and add "After Care" to your cart (be sure to choose the correct week).
 Director/ Vocal Instructor for 12-18 Age Group:  Emi Eiting
Email questions to academy@gmu.edu
Read about Ms. Eiting
For the last 7 years Emi Eiting has been a high school choral director in Fairfax County, Virginia. She led 4 choirs, taught Music History and directed the school musical each year. Before her career in education, she had many years of fun in the theatre. She worked consistently as an actor, music director, pianist, and stage manager at a number of regional theatres around the country, spent some time singing on a cruise ship, and toured the country with a familiar children's show before moving to Boston. In Boston she found a theatrical home with Speakeasy Stage Company with whom she worked on a number of shows including Songs for a New World, The Wild Party (LaChiusa), and Saturday Night. Emi has performed her solo cabaret show- 'Standing in the Middle of the Road' with Speakeasy Stage (Boston) and at Danny's Skylight Room (New York). She has worked in New York with composers Jason Robert Brown, Lance Horne, Brian Lowdermilk and Scott Evan Davis. In November 2016 Emi performed as a solo artist at the Kennedy Center on a concert featuring the music of Scott Evan Davis. She left public education in 2016 to be a stay at home mother, but remains active as a freelance pianist, adjudicator, conductor, vocal coach and director. Emi holds a Bachelors degree in Music Education from George Mason University. She has additional training in Musical Theatre from Interlochen Arts Program in Traverse City, MI.
 Director for 7-11 Age Group: Mary Lechter
Email questions to academy@gmu.edu

 Be sure to check our policies and procedures regarding withdrawals, refunds and more for summer programs.
All students will receive a Musical Theater Bootcamp Welcome Letter 2019 via email at least 1 week before the program starts with all necessary details including drop off, pick up, what to bring, etc. Feel free to call the Academy office with questions at 703-993-9889.
Questions about parking on campus?  Find answers here.  
To register by phone or request a paper registration form, please call the Academy office at 703-993-9889.
TESTIMONIALS
"My favorite part was the teachers, and the wonderful recital at the end." – Musical Theater Vocal Bootcamp 2017 Participant
See More Testimonials
"My favorite part was the presentation at the Harris Theater!" – Musical Theater Vocal Bootcamp 2017 Parent
"It really pushed me to be better and learn ten whole songs in five days." – Musical Theater Vocal Bootcamp 2017 Participant
"My favorite part was getting the vocal instruction and learning new techniques." – Musical Theater Vocal Bootcamp 2017 Participant