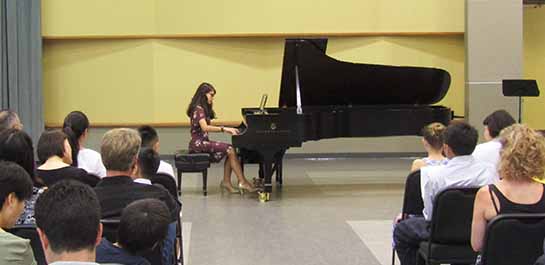 SUMMER PIANO ACADEMY ADVANCED
---
SUMMER 2022 INFORMATION WILL BE AVAILABLE IN FEBRUARY!
Fall Acting, Music & Visual Art Programming Registration Now Open! Explore Today >>
Join our email list to stay up to date on new class offerings
---
PROGRAM OVERVIEW
An exciting program for advanced piano students ages 13 through 18. During this week of intensive musical study in an inspiring environment, participants will receive private lessons taught by MCAA Teaching Artists, daily masterclasses, sessions on music history, theory, and other topics, as well as faculty and guest performances. Students will have the opportunity to perform in an in-person recital at the end of the week. The competition is open to all participants but not required for Academy attendance.
NOTE: The skill level is from beginner (minimum 1 year of private lessons) to advanced. Students ages 8-13 may join the Summer Piano Academy (July 26-30). Very beginners in ages 6-9 can join our Piano Adventures Online (July 5 – 9).
Video Submission: submit one audition video of a piece less than 3-4 minutes. Videos should be sent to academy@gmu.edu by June 1 with the subject line "Last Name_Piano Academy Audition – Week 2."
Students will receive
Three 45-minute private lessons with MCAA Teaching Artists
Daily classes in music history, theory, and other piano topics
Daily masterclasses with Piano Academy faculty and George Mason University Music Professor, Dr. Anna Balakerskaia. (Online participants will be able to audit all masterclasses, and may choose to come in person to participate as a performer)
Daily performances by faculty and guests
In-person recital at the end of the week
Competition Opportunity (Participation Optional)
Participants must submit an unedited and uncut video recording by August 2 to be eligible for the competition
Repertoire is up to the participant's discretion, no more than 15 minutes (single movements are allowed)
Both hands and face profile must be visible at all times
Competition Prizes
First Place

Professional recording session for a single (subject to time limits) at PianoCraft (Maryland) produced by Antonino D'Urzo (Opusrite Audio Productions), to be released on all major streaming platforms (Spotify, iTunes, Apple Music and others)
Performance in the Winners' Recital during the 2021-2022 season – TBD dependent on COVID restrictions
45-minute private lesson with George Mason University piano faculty

Second and Third Place

Performance in the Winners' Recital during the 2021-2022 season – TBD dependent on COVID restrictions
45-minute private lesson with George Mason University piano faculty
Ages:  13 – 17
Dates:  August 2 – 6, 2021
Times:  9:00 am – 4:00 pm (M-F)
Tuition:  $555
Location:  In-Person: Mason Fairfax Campus, deLaski Performing Arts Building
Application Deadline: Tuesday, June 29
*After Care not available for Summer 2021
Requirement
Registration closed.
PROGRAM FACULTY
---

Director/ Instructor: Misha Tumanov
Academy Teaching Artist
Read about Mr. Tumanov
Born in Ukraine, Misha Tumanov started his musical education in Costa Rica at the Instituto Superior de Artes and the Pre-College Program of the National University, studying with Dr. Alexandr Sklioutovsky. After Mr. Tumanov graduated with honors from the National University at age seventeen, he continued his studies with Dr. Ray Kilburn at Ball State University, receiving a Master's Degree and Artist Diploma in piano performance. Currently, Mr. Tumanov is a Doctoral Candidate at the University of Maryland, under Dr. Larissa Dedova, where he is recording works of the early Soviet Avant-garde, including Shostakovich, Prokofiev, Myaskovsky, Feinberg, and Roslavets.
Mr. Tumanov has taught in the DC area since 2010. Previously, he taught at the National University of Costa Rica, the Instituto Superior de Artes, and Ball State (both private lessons and group classes). Mr. Tumanov has also taught group classes at George Mason University and the University of Maryland. He has been often invited back to Costa Rica to work with students preparing for competitions and major performances, most notably the International Competition of Slav Music 2009 and 2010, where the students received two Second Prizes and one Third Prize. Mr. Tumanov's students have performed at the Carnegie Hall, Kennedy Center, as well as prominent local venues.
Mr. Tumanov's experience as a teacher ranges from 4 year-old beginners to advanced adults. Mr. Tumanov is passionate about guiding his students to find their own artistic voice and discovering the joy of music.
Mr. Tumanov has participated in masterclasses with such distinguished pianists and teachers as Gyorgy Sandor, Alexander Braginsky, Alexander Kobrin, Jerome Rose, and Jonathan Biss. In 2006 he released a CD featuring works by Bach, Mozart, Chopin, Schumann, and Rachmaninov.
Mr. Tumanov is a frequent performer at festivals and conferences, both as a solo and collaborative pianist, including the International Double Reed Society conference, MTNA, Piano Technicians Guild, and Orfeo Music Festival in Italy. He has been a featured soloist with the National Symphony Orchestra of Ukraine, the National and Youth Symphony Orchestras of Costa Rica, as well as the Ball State Symphony Orchestra. Mr. Tumanov has won numerous awards and competitions, including second place at the East-Central Division of the MTNA National Competition, the Indianapolis Matinee Musicale, and 1st Prize at the Pinault International Competition in New York.
In addition, Mr. Tumanov is the pianist/organist and Concert Series Coordinator at the United Christian Parish in Reston, VA.

Instructor: Faith Zúñiga
Academy Teaching Artist
Read about Ms. Zúñiga
As an accomplished piano teacher on a continual quest for excellence in teaching and performance, Faith Zúñiga's mission is to provide high-quality instruction to motivated students. Within her piano studio, she has created a levels framework with separate Regular, Honors, and Professional tracks based on expected achievement by school grade and measured through successful participation in the Royal Conservatory of Music (RCM) exams.
Ms. Zúñiga teaches her students not just how to play piano in a fluid, expressive, and relaxed way, but also how to think about music in terms of music theory. She also teaches her students how to listen for intervals and harmonies in order to not just excel at the RCM exams and other area competitions and festivals, but also become truly proficient at the piano and develop a deep love for and appreciation of music. Her students have been selected as winners of the State Certificate Awards through the RCM exams, and have been invited to play at the multi-state Southeast Region Celebration of Excellence recitals. They have also won awards including 1st Place in the Mary Smart competition (at the state level, after passing both local and regional levels), and many other awards including the American Protege International Piano & Strings, Summer Gala, and Romantic Music Competitions; the Art Guild of Clifton Scholarship Award; the MCAA Music Competition; the Spotlight on the Arts Competition; the Vasya Georgieva Award for Artistic Excellence; and the Honors Recital for the NVMTA Sonata Festival, among others. Her students have performed at Carnegie Hall at both the Weill and Stern Auditoriums, the Kennedy Center, the George Mason University Harris Theatre, the Woman's Club of Arlington, Fairfax Old Town Hall, the Southeast Region of Excellence RCM recital in Florida, and many other locations.
Ms. Zuniga believes that crucial moments in music teaching happen in the formative childhood years. Great instruction during that time can set a student up for lifetime success. She believes it is a great honor to teach children to play the piano well, and teaching a child from the age of 5 or 6 until they reach 18 is a wonderful long-term project with incredibly rewarding results.
As a performing pianist, Ms. Zúñiga and her colleagues around the U.S. and the world presented the entire Beethoven sonatas and several concerts of music by black composers through online streaming in 2020, presented by Kyu Butler, president of the Missouri chapter of the World Piano Teachers Association. She is very excited to play Chopin's 2nd Piano Concerto in May 2021 with the Reston Community Orchestra under the baton of Dingwall Fleary. She has previously won the concerto competition at George Mason University and the undergraduate piano competition at the University of Illinois at Urbana-Champaign. Additional competition awards include Semifinalist in the Victor Elmaleh Concert Artists Guild Competition and Semifinalist in the Byrd International Piano Competition. Ms. Zúñiga has performed Prokofiev Concerto No. 1 and Beethoven Concerto No. 5 with the Mason Symphony Orchestra and also performs frequently with her trio, The Dream Trio, throughout the Northern Virginia and Washington, D.C. metropolitan area. She is currently a Doctor of Musical Arts student at George Mason University, where she studies with the masterful Dr. Anna Balakerskaia. She also owes a great debt of gratitude to her former teacher, Dr. Alexander Sklioutovski, for his wonderful teaching and inspiration.
Ms. Zúñiga is an active adjudicator and has judged competitions such as the Robert & Frances Allen Young Artist Competition, the Bland Competition, the NVMTA Spring Festival and Sonata Festival, and the MCAA Spotlight Auditions. She also served a two-year volunteer term as a board member (Recording Secretary) of the NVMTA (Northern Virginia Music Teachers Association).


Instructor: Andy Miller
Mason School of Music Faculty
Read about Mr. Miller
Andrew Miller, a native of Springfield, VA, is an accomplished pianist whose versatility and commitment to musicianship are exhibited by his active participation as a soloist, accompanist, chamber musician, and instructor in the Northern Virginia area. Mr. Miller is a current third-year doctoral candidate of the D.M.A program in Piano Performance at George Mason University and has had the privilege of studying with Dr. Anna Balakerskaia since 2010. During his studies at Mason, Mr. Miller was selected as a winner of the 2016 GMU Concerto Competition and performed for the Scholarship Benefit Concert with the Mason Symphony Orchestra in May of that year. Mr. Miller was a winner of the GMU Concerto Competition in 2013 and performed Gershwin's Rhapsody in Blue in the Young Masters Concert before the completion of his Master of Music in Piano Performance in May 2013. He participated as a performer and chamber musician in the Orfeo International Music Festival held in Vipiteno, Italy in 2011.
In May 2010, Mr. Miller graduated Cum Laude with a Bachelor of Music in Piano Performance from Christopher Newport University. Under the tutelage of CNU professors, Dr. Jeffrey Brown and Dr. Amanda Halstead, Mr. Miller won the CNU Concerto/Aria Competition twice and was given the privilege of performing Beethoven's "Third Piano Concerto" and Gershwin's "Concerto in F" with the Christopher Newport University Orchestra. In addition to his orchestral recognition, Mr. Miller received first place in the annual Friends of Music Scholarship Recital and was nominated two times for the "People's Choice" Award. He has performed various musicals for Theater CNU including the production of Urinetown (2007) as a member of the "Pit Stop Band" and was Assistant Musical Director for their production of Little Shop of Horrors (2008). During the spring of 2009, he was chosen by the faculty and was inducted into the honorary music fraternity Pi Kappa Lambda, which recognizes students for their advanced academic and musical accomplishments. In addition to his keyboard experiences, he enjoyed playing trombone as a member, and later as a drum major (2009), of the CNU Marching Captains.
Today, Mr. Miller works alongside keyboard professors as a graduate lecturer at Mason, maintains a private studio of 30 local students, as well as working as a vocal coach/accompanist for Mason's private voice studios (since 2011), VA Hills Baptist Church (since 2012), and the Eastern Virginia School for the Performing Arts (2009-2010). In addition to his professional coaching, Mr. Miller has appeared as a soloist/accompanist for the concert series "Music for the Angels" at the National Swedenborgian Church in Washington D.C and is a current recipient of the Linda Monson Endowment Scholarship at George Mason University.
TESTIMONIALS
---
"My favorite part of the program was the recital performance. I enjoyed watching the other students perform. I live on the west coast and woke up at 5:30 am to participate in the program because I really wanted to participate in this special opportunity. "―Mason Summer Piano Academy 2020 Participant
See More Testimonials
"My daughter enjoyed the keyboard repertoire class and the private lessons."―Mason Summer Piano Academy 2019 Parent
"My favorite part was the four semi-private (2 students) professional lessons. I also loved the t-shirt that the students received. Kudos to the designer." – Mason Summer Piano Academy 2018 Parent
"I really appreciated the opportunity provided for my child to see a wide variety of style and performance." – Mason Summer Piano Academy 2017 Parent
"My favorite part was getting a chance to work with new teachers and to meet other kids very interested in piano." – Mason Summer Piano Academy 2017 Participant
Be sure to check our FAQs and policies and procedures regarding registration, safety protocols, curriculum, technology, and more for summer programs.
All students will receive a Welcome Letter via email at least 1 week before the program starts with all necessary details including camp schedule, supply list, web links, etc. For additional information, please contact the Academy at academy@gmu.edu.
Questions about parking on campus? Find answers here.