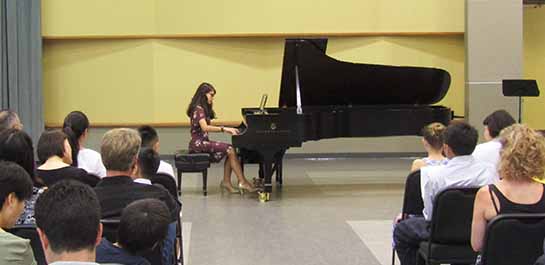 MASON SUMMER PIANO ACADEMY – ADVANCED
An exciting program for advanced piano students. During this week of intensive musical study in an inspiring environment, participants will receive private lessons taught by MCAA Teaching Artists, daily masterclasses, sessions on music history, theory and other topics, as well as faculty and guest performances. Students will have the chance to participate in a performance competition, with prizes!
Very young/very beginner students ages 6-9 can join our Piano Adventures.
Younger students ages 8-13 may join our Piano Academy.
Ages:  13 – 18
Dates:  August 8 – 12, 2022
Times:  9:00 am – 4:00 pm* (M-F)
Tuition:  $595
Location:  Mason Fairfax Campus, deLaski Performing Arts Building
*After Care is NOT available this week.
Students will receive:
3 – 45 minute private lessons with MCAA Teaching Artists
Daily classes in music history, theory and other piano topics
Daily masterclasses with Piano Academy faculty and guest artists
Daily performances by faculty and guests
APPLY NOW! Application is closed.
An application and successful video audition are required to participate in this program. Please complete the below online application form and follow audition video submission instructions. See Audition Material below.
COVID REQUIREMENTS:  Students must follow University Covid protocols. Please see updates here.
Audition Material:
One unedited piece that best demonstrates your ability.
Both hands and face/profile must be visible at all times
PROGRAM FACULTY
---

Co-Director/ Instructor: Michelle Richardson
Piano Teaching Artist
Read about Dr. Richardson
Michelle Richardson holds a BM and MM from George Mason University where she studied with Dr. Anna Balakerskaia.  She attained her Doctorate of Musical Arts degree, studying with Dr. Balakerskaia.  Michelle is a sought after soloist, chamber musician, and accompanist in the Metro D.C. Area.  Highlights of her solo and chamber performances include her solo debut with the George Mason Symphony Orchestra playing Rachmaninoff's Piano Conerto No. 2, chamber recitals at the Lyceum in Alexandria, the "Music with the Angels" Concert series at the Church of the Holy City, Fairfax County "Spotlight on the Arts" festival, as well as at George Mason's All-Steinway Concerts and ARTS By George series.  In the summer of 2010, Michelle was invited to attend the Orfeo International Music Festival in Vipiteno, Italy. There, she was featured on multiple programs as a soloist and was a finalist in the Orfeo International Music Competition.  In May of 2013, Michelle was a featured soloist in the GMU School of Music Honors Recital.
In August of 2015 she was faculty on the Corcoran Chamber Music Institute (formerly known as the Summer Piano and Chamber Music Institute at George Washington University).  She has served as a graduate lecturer at George Mason University, teaching keyboard classes throughout the year.  She also is an active faculty member at the Potomac Arts Academy at George Mason University, where she teaches at summer piano programs, group classes, and maintains a piano studio of all ages throughout the year.  In August of 2016 and 2017 she successfully directed the Summer Piano Academy Program, a Potomac Arts Academy summer camp for piano students of various levels that takes place in the School of Music at GMU.  Michelle is experienced teaching all levels of piano, and has prepared students for successful auditions to their top choice music schools with scholarship.  In addition, she is the church organist at Leesburg Community Church and actively accompanies in the Northern Virginia area. 

Co-Director/ Instructor: Dr. Misha Tumanov
Academy Teaching Artist
Read about Dr. Tumanov
Born in Ukraine, Misha Tumanov started his musical education in Costa Rica at the Instituto Superior de Artes and the Pre-College Program of the National University studying with Dr. Alexandr Sklioutovsky. After Mr. Tumanov graduated with honors from the National University at age seventeen, he continued his studies with Dr. Ray Kilburn at Ball State University, receiving a Master's Degree and Artist Diploma in piano performance. Currently, Mr. Tumanov is a Doctoral Candidate at the University of Maryland, under Dr. Larissa Dedova, where he is recording works of the early Soviet Avant-garde, including Shostakovich, Prokofiev, Myaskovsky, Feinberg, and Roslavets.
Mr. Tumanov has taught in the DC area since 2010. Previously, he taught at the National University of Costa Rica, the Instituto Superior de Artes, and Ball State (both private lessons and group classes). Mr. Tumanov has also taught group classes at George Mason University and the University of Maryland. He has been often invited back to Costa Rica to work with students preparing for competitions and major performances, most notably the International Competition of Slav Music 2009 and 2010, where the students received two Second Prizes and one Third Prize. Mr. Tumanov's students have performed at the Carnegie Hall, Kennedy Center, as well as prominent local venues.
Mr. Tumanov's experience as a teacher ranges from 4-year-old beginners to advanced adults. Mr. Tumanov is passionate about guiding his students to find their own artistic voice and discovering the joy of music.
Mr. Tumanov has participated in masterclasses with such distinguished pianists and teachers as Gyorgy Sandor, Alexander Braginsky, Alexander Kobrin, Jerome Rose, and Jonathan Biss. In 2006 he released a CD featuring works by Bach, Mozart, Chopin, Schumann, and Rachmaninov.
Mr. Tumanov is a frequent performer at festivals and conferences, both as a solo and collaborative pianist, including the International Double Reed Society conference, MTNA, Piano Technicians Guild, and Orfeo Music Festival in Italy. He has been a featured soloist with the National Symphony Orchestra of Ukraine, the National and Youth Symphony Orchestras of Costa Rica, as well as the Ball State Symphony Orchestra. Mr. Tumanov has won numerous awards and competitions, including second place at the East-Central Division of the MTNA National Competition, the Indianapolis Matinee Musicale, and 1st Prize at the Pinault International Competition in New York.
In addition, Mr. Tumanov is the pianist/organist and Concert Series Coordinator at the United Christian Parish in Reston, VA.


Instructor: Andy Miller
Piano Teaching Artist
Read about Dr. Miller
Andrew Miller, a native of Springfield, VA, is an accomplished pianist whose versatility and commitment to musicianship are exhibited by his active participation as a soloist, accompanist, chamber musician, and instructor in the Northern Virginia area. Mr. Miller is a current third-year doctoral candidate of the D.M.A program in Piano Performance at George Mason University and has had the privilege of studying with Dr. Anna Balakerskaia since 2010. During his studies at Mason, Mr. Miller was selected as a winner of the 2016 GMU Concerto Competition and performed for the Scholarship Benefit Concert with the Mason Symphony Orchestra in May of that year. Mr. Miller was a winner of the GMU Concerto Competition in 2013 and performed Gershwin's Rhapsody in Blue in the Young Masters' Concert before the completion of his Master of Music in Piano Performance in May 2013. He participated as a performer and chamber musician in the Orfeo International Music Festival held in Vipiteno, Italy, in 2011.
In May 2010, Mr. Miller graduated Cum Laude with a Bachelor of Music in Piano Performance from Christopher Newport University. Under the tutelage of CNU professors Dr. Jeffrey Brown and Dr. Amanda Halstead, Mr. Miller won the CNU Concerto/Aria Competition twice and was given the privilege of performing Beethoven's "Third Piano Concerto" and Gershwin's "Concerto in F" with the Christopher Newport University Orchestra. In addition to his orchestral recognition, Mr. Miller received first place in the annual Friends of Music Scholarship Recital and was nominated two times for the "People's Choice" Award. He has performed various musicals for Theater CNU, including the production of Urinetown (2007) as a member of the "Pit Stop Band" and was Assistant Musical Director for their production of Little Shop of Horrors (2008). During the spring of 2009, he was chosen by the faculty and was inducted into the honorary music fraternity Pi Kappa Lambda, which recognizes students for their advanced academic and musical accomplishments. In addition to his keyboard experiences, he enjoyed playing trombone as a member and later as a drum major (2009) of the CNU Marching Captains.
Today, Mr. Miller works alongside keyboard professors as a graduate lecturer at Mason, maintains a private studio of 30 local students, as well as working as a vocal coach/accompanist for Mason's private voice studios (since 2011), VA Hills Baptist Church (since 2012), and the Eastern Virginia School for the Performing Arts (2009-2010). In addition to his professional coaching, Mr. Miller has appeared as a soloist/accompanist for the concert series "Music for the Angels" at the National Swedenborgian Church in Washington D.C and is a current recipient of the Linda Monson Endowment Scholarship at George Mason University.
GUEST ARTISTS
---

Guest Artist: Dr. Linda Monson
George Mason University
Read About Dr. Monson
Dr. Linda Apple Monson, International Steinway Artist, serves as the Director of the School of Music in the College of Visual and Performing Arts at George Mason University. A Distinguished Service Professor, Monson was awarded The John Toups Presidential Medal for Excellence in Teaching at George Mason University's 2018 Spring Commencement Ceremony. The Toups Presidential Medal is presented to "a faculty member whose teaching exemplifies Mason's commitment to ongoing innovation and excellence in delivering a transformative learning experience to our students."
Named the George Mason University Distinguished Faculty Member of the Year (2012), Monson also received the Influential Women of Virginia award (2014). Monson delivered two TED-X talks and received the Toastmaster's International Communication and Leadership Award (2014)"in recognition of outstanding dedication, leadership, and contributions in the areas of education and international understanding." Monson is the recipient of the George Mason University Teaching Excellence Award (2009) "for exemplary dedication to student learning and commitment to educational excellence." In honor of the extraordinary impact of Monson's teaching and music leadership at George Mason University, multiple donors established in 2011 the Dr. Linda Apple Monson Music Endowment Fund. A professor at Mason since 1999, Monson has also served as Director of Music at Springfield United Methodist Church for many years.
A recent $1 million scholarship commitment from Sid and Reva Dewberry to Mason's School of Music established the Linda Apple Monson Scholars Fund to support talented artist-scholars. Monson was recognized in September 2017 through the renaming of the Grand Tier III of Mason's Center for the Arts in her honor to the Dr. Linda Apple Monson Grand Tier.
A nationally recognized arts leader, Monson was elected to the National Association of Schools of Music (NASM) Commission on Accreditation, the board granting accreditation for music programs at universities and conservatories across the nation. She was selected for the Fulbright Senior Specialist Roster, in collaboration with the U.S. State Department and the Council for International Exchange of Scholars. Monson served as an International Juror of the Washington Piano Invitational Competition (2013) at the Kennedy Center and was named a Visiting Guest Professor at Nanjing Normal University, China (2010).
An active performer-scholar and an internationally recognized master teacher, Monson has given lecture-recitals, solo piano recitals, and piano master classes throughout the United States, Europe, Asia, Latin America, and Australia. An advocate of new music, Monson has presented numerous world premieres of solo piano works. Her research has been featured in lecture-recitals at the College Music Society International Conferences in Brussels, Sydney, Stockholm, Helsinki, Buenos Aires, Dubrovnik, Bangkok, Madrid, and San Jose. Monson has also given lecture-recitals and piano masterclasses internationally in Seoul, Oxford, Dublin, Nanjing, Kuala Lumpur, San Jose, and San Juan. Monson delivered an interdisciplinary lecture-recital at the Oxford Round Table in England and was a featured lecture-recitalist for the Alban Berg International Festival in Hannover, Germany. She was an invited concert artist, lecturer, and piano master class clinician at Nanjing Normal University, China where she has been appointed a visiting guest professor. Monson has presented her research and delivered lecture-recitals at National Conferences of the College Music Society held in Minneapolis, Portland, Salt Lake City, San Antonio, and Miami. In addition, Monson has also presented solo piano recitals and piano master classes at countless universities throughout the United States and abroad.
Monson served as President of Mason's chapter of Phi Beta Delta, a national honor society dedicated to recognizing scholarly achievement and excellence in international education. She also served five terms as a Faculty Senator at George Mason University and was elected by the university faculty to serve on the Mason Presidential Search Committee (2011-12). Additionally, she served on the University Provost Review Committee (2018). Serving on the Friends of Music at Mason Board and the Faculty Arts Club, Monson is also a presenter for the Osher Lifelong Learning Institute of George Mason University. In addition, Monson is a frequent performer at Mason as a solo and collaborative piano artist.
An active adjudicator in piano competitions and festivals, Monson served as a juror for the 2019 International Young Artist Piano Competition. Additionally she served as a juror for the 2018 Concerto Competition for the Sewanee Summer Music Festival and the 2016 National Symphony Orchestra piano concerto auditions for young artists. She also presented a piano master for the 2016 –17 International Piano Competition (I Institute–Beijing). Monson also served as an American Juror for the 2009 Washington International Piano Competition. She was invited as a panelist and concert commentator for the Virginia Chamber Orchestra satellite broadcasts, Music of the Romantic Era and Music by Modern Masters, which were sent to all community colleges in the United States.
A native of central Pennsylvania, Monson earned three degrees from the Peabody Conservatory of Music of the Johns Hopkins University, Baltimore: the Doctor of Musical Arts degree in Piano Performance, the Master of Music degree in Piano, and the Bachelor of Music Education Degree with a double-major in Piano and Bassoon. She also received a Diploma in Piano from Musica en Compostela, Santiago de Compostela, Spain. In addition, she studied chamber music at the Music Academy of the West, Santa Barbara, California. Monson previously served on the music faculties of the College of Notre Dame of Maryland, the Peabody Institute of the Johns Hopkins University, Baltimore School for the Arts, and Northern Virginia Community College. She is married to Dr. Keith L. Monson, a forensic scientist. The Monsons are blessed with two children, Kristofer and Linnea.

Guest Artist: Dr. Ernest Barretta
Juilliard School of Music
Dr. Barretta's appearance is made possible by the generous support of PianoCraft.
Read About Dr. Barretta
Ernest Barretta has had extensive performance experience as a soloist and chamber musician in the U.S. and abroad. Among his recent appearances are performances with the National Gallery Orchestra, the Mid-Atlantic Symphony, and the St. Petersburg Symphony. He has recorded as solo artist and with chamber groups on the MRC and Musician's Showcase labels. He joined the Juilliard Pre-College faculty in 2001 and was formerly a member of the faculty at Peabody Conservatory and Towson University (Maryland). He holds a BM from Oberlin Conservatory, a MM from University of Arts, and a DMA from Peabody Conservatory.

Guest Artist: Dr. Elizabeth G. Hill
Read About Dr. Hill
A recognized leader in contemporary music advocacy, pianist Elizabeth G. Hill has led and performed in the D.C. area's most prominent chamber ensembles, and is known for her work as a solo performer, educator, and lecturer.

TESTIMONIALS
---
"My favorite part of the program was the recital performance. I enjoyed watching the other students perform. I live on the west coast and woke up at 5:30 am to participate in the program because I really wanted to participate in this special opportunity. "―Mason Summer Piano Academy 2020 Participant
See More Testimonials
"My daughter enjoyed the keyboard repertoire class and the private lessons."―Mason Summer Piano Academy 2019 Parent
"My favorite part was the four semi-private (2 students) professional lessons. I also loved the t-shirt that the students received. Kudos to the designer." – Mason Summer Piano Academy 2018 Parent
"I really appreciated the opportunity provided for my child to see a wide variety of style and performance." – Mason Summer Piano Academy 2017 Parent
"My favorite part was getting a chance to work with new teachers and to meet other kids very interested in piano." – Mason Summer Piano Academy 2017 Participant
Be sure to check our FAQs and policies and procedures regarding registration, safety protocols, curriculum, technology, and more for summer programs.
All students will receive a Welcome Letter via email at least 1 week before the program starts with all necessary details including camp schedule, supply list, web links, etc. For additional information, please contact the Academy at academy@gmu.edu.
Questions about parking on campus? Find answers here.