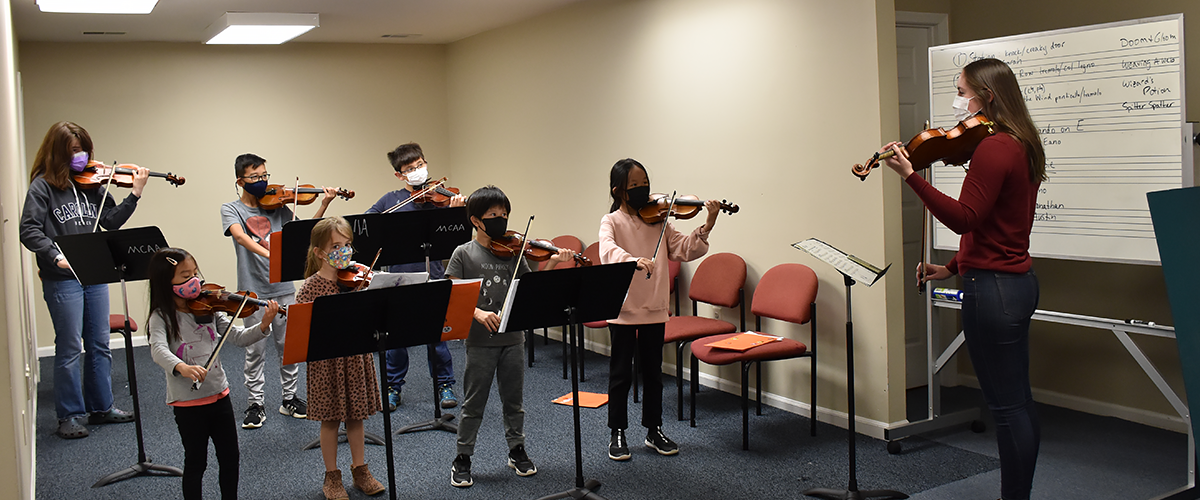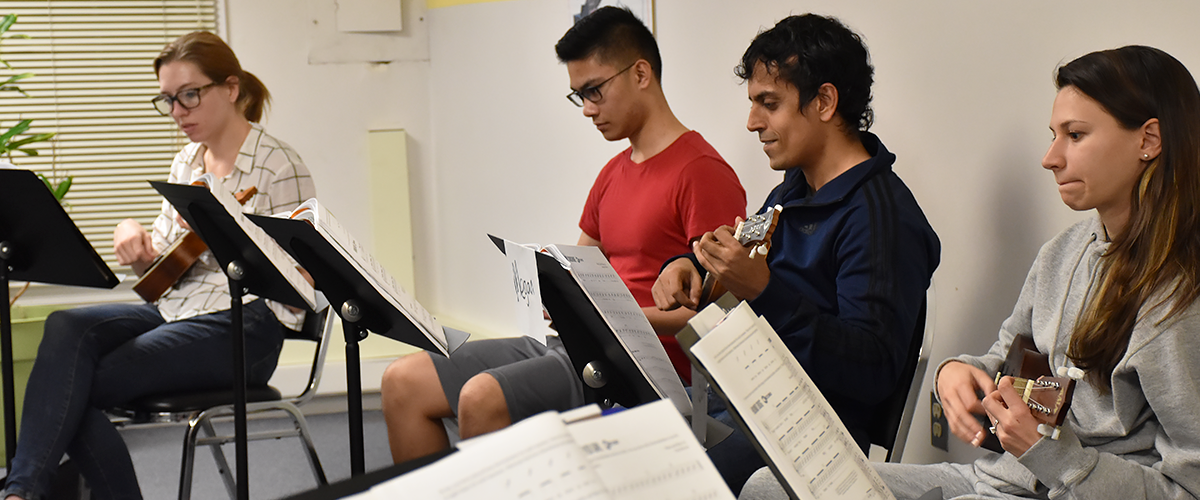 Ages 4–Adult
Sign up for our newsletter to stay informed on new classes.
Learn how to sing, play piano, guitar, and more—and explore composition and music theory—in these fun and enriching in-person music classes! All of our faculty members are highly dedicated and experienced musicians who strive to provide the highest level of instruction while creating a supportive relationship with our students. Whether you live near or far, our programs will connect you with George Mason University faculty, professional teaching artists, and experienced music educators.
Should I select group classes or private lessons?
Students are welcome to start their musical studies with a private instructor. When possible, the Academy recommends that beginners start with specific music classes before progressing to Private Lessons.
We offer multi-level beginner and intermediate group classes for young students and adults in piano, violin, and guitar. We also offer group classes in special topics for current private lesson students seeking to supplement their studies. Most teachers recommend for voice students to begin private lessons once a student's voice is fully developed after puberty.
---
Fall 2023
Early Childhood
Tuesdays, 4:30 – 5:15 pm
Ages 4-6: September 12-October 17, 2023 (Closed)

Ages 7-9: October 24-December 5, 2023
Piano (Closed)
Piano Discoveries (4 Sections)
Ages 5-6 & 7-9
Wednesdays, 4:45 – 5:30 pm or 5:45 – 6:30 pm (Waitlist)
or Thursday, 4:30 – 5:15 pm or 5:30 – 6:15 pm (Waitlist)
September 13, 2023 – May 9, 2024
Closed
Ages 16+
Thursdays, 6:30 – 7:30 pm
September 14 – December 7, 2023
Closed
Ages 55+
Wednesdays, 11:15 am – 12:15 pm
September 13 – December 6, 2023
Closed
Ages 16+
Thursdays, 7:30 – 8:30 pm
September 14 – December 7, 2023
Closed
Ages 55+
Wednesdays, 1:00 – 2:00 pm
September 13 – December 6, 2023
Closed
Violin (Closed)
Ages 4-6 & 5-8
Tuesdays, 5:15 – 6:15 pm or 6:30 – 7:30 pm
September 12, 2023 – May 7, 2024
Closed
Voice (Closed)