Summer Registration is closed and will reopen in January.
View our Fall/Spring programs.
Overview
The Mason Summer Conducting Symposium provides continuing professional development opportunities for conductors and educators of all levels (K-12 through professional) focused on developing gestural vocabulary and ensemble leadership. Large group masterclasses and individualized feedback will allow participants to explore new approaches to score study, movement, and rehearsal techniques.
Dr. Soo Han, Director of Orchestral Studies, and Dr. William L. Lake, Jr., Director of Concert Bands, will be joined by Anthony Maiello, University Professor and Retired conductor of the American Festival Pops Orchestra, and Dr. LaToya Webb, Wind Ensemble Conductor at Wilfrid Laurier University, as conducting faculty for the 2023 Mason Summer Conducting Symposium.
Participants will have an opportunity to conduct multiple times throughout the week, receive feedback and guidance from all conducting faculty, participate in group score study sessions, and observe other conducting participants. Each participant is expected to play as an ensemble member when not conducting on the podium. Participants will select one of two tracks for repertoire focus: orchestral or wind band.
Registration for the symposium will open online January 15, 2023 at 8:00 am and will remain open until all spots are filled (no limit for auditors).
Auditors
Individuals may opt to participate as auditors for this program. Auditors will not have an opportunity to conduct, but will be engaged in the symposium by observing all conducting rounds, breakout sessions, and discussions. Auditors will be expected to play as ensemble members.
Sample Daily Schedule

9am – 11am: Morning conducting rounds
11am – 12pm: Masterclass
12pm – 1pm: Lunch Break
1pm – 3pm: Afternoon conducting rounds
3pm – 4pm: Masterclass
4pm – 5pm: Daily debrief/discussion (optional)
Repertoire
Wind Band Track
Basler – Mangulina
Brahms/arr. Buehlman – Blessed Are They
Copley – Halcyon Hearts
Etezady – Against the Rain
Giroux – Riften Wed
Holst – First Suite in E-flat, Op.9 (All Movements)
Mackey – This Cruel Moon
Nishimura – Autumn
Orchestra (Tentative)
Newbold – Iditarod
Tchaikovsky – Serenade for Strings
Grant Still – Danzas de Panama
Beethoven – Symphony No. 5
Revueltas – Sensemaya
Ages: 18+

Dates: July 17 – 21, 2023
9:00 am – 4:00 pm

Location: Mason Fairfax Campus, Performing Arts Building & Harris Theater

Tuition: See below for individual rates.

Parking: $35 per week Purchase A Pass | Parking Map
⚠️ For-Credit Registrations
ATTENTION: For-Credit Registrations are managed by the Continuing and Professional Education office at George Mason University. When you find the course(s) you are registering for please follow these steps:
Click the "Register for Credit" button to register.
On the right side of the page, you will see the details of the course including dates, times, and course fees. Click the green "Add to Cart" button.
Doublecheck the in-state or out-of-state fee selection, and then "Checkout" at the top of the page. This will then prompt you to make an account through the online portal. Please choose "I am a new user or I have an inquiry" and enter your email address and "Create Account."
Please fill out all data required and then "Continue Checkout."
You will then be prompted to complete your payment option.
Once payment is received, you will get an enrollment and payment receipt.
---
Program Faculty
Dr. William Lake, Jr.
Co-Director/Wind Band Conductor & Director of Concert Bands
Read More
Dr. William L. Lake, Jr. is the newly appointed Director of Concert Bands at the Reva and Sid Dewberry Family School of Music at George Mason University for the upcoming academic year. In this role, he will conduct the George Mason University Wind Symphony and Symphonic Band. He will also teach conducting and wind literature classes.
Before his tenure at George Mason University, Dr. William L. Lake, Jr., served as Associate Director of Bands and Assistant Professor of Music Education at the Crane School of Music (SUNY-Potsdam), where he was co-conductor of the Northern Symphonic Winds, principal conductor of the Crane Concert Band, and guest conductor of the Crane Wind Ensemble. In addition to these responsibilities, Dr. Lake taught undergraduate conducting, Secondary Wind Practices, Wind Literature, and the preservice Practicum in Beginning Instruments Course.
Dr. Lake earned his Doctor of Musical Arts Degree in Instrumental Conducting from The University of North Carolina at Greensboro under the mentorship of Drs. John R. Locke and Kevin Geraldi. As a graduate student, he was the principal conductor of The University of North Carolina University Band and guest conductor of the Wind Ensemble, Symphonic Band, Casella Sinfonietta Chamber Ensemble, and Symphony Orchestra.
Dr. Lake is the recipient of two master's degrees, the first from Boston University in Music Education (2011) and the second from the University of Maryland, College Park in Wind Conducting (2014) under the mentorship of Dr. Michael Votta, Jr. In May 2006, Dr. Lake received the Bachelor of Music Liberal Arts -Jazz Studies Piano Performance Degree from the University of Maryland, College Park as a student of Jon Ozment and Christopher Vadala.
Dr. Lake maintains an active performance and clinic schedule as a guest conductor and lecturer throughout the country. He was a finalist for the 2017-2018 Ernst Bacon Memorial Award for the Performance of American Music and the Band Conducting Division of the American Prize. Recently, Dr. Lake served as a collaborating author for two books, Teaching Instrumental Music: Perspectives and Pedagogies for the 21st Century (Oxford University Press) and Music Education on the Verge: Stories of Pandemic Teaching and Transformative Change (Lexington Books), both to be published in 2022.
As a passionate advocate for diversity, equity, and inclusion, Dr. Lake is the co-founder of I See You: Affirming Representation in Music. In this capacity, Dr. Lake has presented over twenty seminars across the United States on inclusive practices in music education and performance. With co-founder Dr. LaToya A. Webb, Dr. Lake has been invited to present on diversity, equity, and inclusion concepts and practices at the 2021 Midwest International Band and Orchestra Clinic, the 2021 Virginia Music Educators Association Professional Development Conference, the 2022 Texas Music Educators Association Conference, the 2021 National Association for Music Education National Conference and the 2022 National Association for Music Education Music Leaders Forum.
Dr. Lake is a member of the College Band Directors National Association, Kappa Kappa Psi, National Honorary Band Fraternity, Inc., Pi Kappa Lambda, and Alpha Phi Alpha Fraternity, Inc. He is also honored with membership in Tau Beta Sigma National Honorary Band Fraternity, Inc., and Phi Mu Alpha Sinfonia.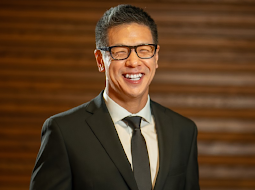 Dr. Soo Han
Co-Director/Orchestra Conductor & Director of Orchestral Studies
Read More
Dr. Soo Han is the newly appointed Director of Orchestral Studies at the Reva and Sid Dewberry Family School of Music at George Mason University. He is also the Music Director of the Elkhart County Symphony Orchestra and a member of the Board of Directors of the Midwest International Band and Orchestra Clinic. In addition, he is a contributing editor for Hal Leonard's Essential Elements for Strings, a D'Addario Orchestral Strings Artist, a Conn-Selmer Educational Clinician, and a program coordinator/faculty member with the Los Angeles Philharmonic's summer Youth Orchestra program.
Prior to his appointment at George Mason University, Dr. Han served as the Director of Orchestral Studies at Baldwin Wallace Conservatory of Music in Berea, Ohio. He conducted the Baldwin Wallace (BW) Symphony Orchestra, the BW Opera Theatre, and led a successful performance tour with the BW Symphony Orchestra in addition to maintaining an active conducting studio.
An active conductor, Dr. Soo Han has appeared with professional orchestras throughout the country in addition to directing university orchestras. He is a frequent conductor for All-State, Regional, and Honor Orchestras throughout the U.S., appearing in over 30 states. He has also conducted internationally with orchestras in Austria, China, Thailand, and Australia. Dr. Han has collaborated with numerous artists, groups, and conductors such as Lynn Harrell, David Kim, and the Indianapolis Symphony Orchestra. He has produced multiple recordings of complete symphonies and has premiered several commissioned works for strings and full orchestras. He has presented workshops and clinics internationally and for national and state music conferences including the Australian String Teachers Conference, Maryborough National Australia Conference, Midwest Clinic, American String Teachers Association (ASTA) National Conference, NAfME National Conference, and the Ohio University Summer String Teacher Workshop.
Dr. Soo Han is a co-author, contributor, and managing editor for Teaching Music through Performance in Orchestra, Vol. 4, one of the leading orchestra pedagogical resources published by GIA. He is the past president of the Indiana chapter of the American String Teachers Association; the Indiana chapter was awarded the 'Most Improved Chapter' during his time as president. Having taught music in public schools for fifteen years, he is a passionate supporter of public school music programs and continues to remain active in instrumental classrooms throughout the country.
Dr. Soo Han received his Bachelor of Instrumental Music Education degree from Indiana University Jacobs School of Music and studied piano with Edward Auer. He received his Master of Science in Education from Indiana University School of Education, and his Doctorate in Orchestral Conducting from the Michigan State University – College of Music where he studied with Kevin Noe.
Dr. LaToya A. Webb
Director of Laurier Wind Orchestra at
Wilfrid Laurier University
Read More
Dr. LaToya A. Webb serves as Wind Ensemble Conductor at Wilfred Laurier University. She teaches courses in instrumental conducting and wind band literature. Prior to this position, Dr. Webb served as Assistant Director of the Longhorn Band and Assistant Professor of Practice in Conducting and an instructor of wind conducting at Auburn and Grambling State universities.
As a passionate advocate for improving educational opportunities through diversity, equity, and inclusion, Dr. Webb is the Special Projects Manager for United Sound, Inc. She also maintains the William P. Foster Project website and serves on the Southwestern Division Committee. Dr. Webb is Co-founder of I See You: Affirming Representation in Music, an organization aimed to affirm Black, Indigenous, People of Color (BIPOC) in all fields of music.
Dr. Webb's professional affiliations include the College Music Society, National Association for Music Education, Texas Music Educators Association, the College Band Directors National Association, Women Band Directors International, Tau Beta Sigma, and Delta Sigma Theta Sorority, Inc.
Anthony Maiello
Instrumental Conducting and Aural Skills
Read More
Anthony J. Maiello is Professor of Music and University Professor at George Mason University. Professor Maiello teaches applied lessons in Conducting, Aural Skills, and classes in Instrumental Conducting. From 1996 to 2009, he conducted the Mason Symphony Orchestra and Chamber Orchestra. Under his direction, the ensembles at both Crane and George Mason University commissioned new works, made numerous recordings and appeared at national and international conferences.
Professor Maiello also makes professional appearances both nationally and abroad conducting music festivals, adjudicating ensembles and presenting clinics, lectures and workshops throughout the United States, Canada, Mexico, the Bahamas and Europe. He conducted musical activities for the Gold Medal Ceremonies at the 1980 Winter Olympics in Lake Placid, New York; served as Musical Director for Music Festivals International; was selected as President of International Association of Jazz Educators – New York State Chapter; and is a guest clinician for Yamaha Corporation and Warner Bros. Publications. In March of 2010, he was inducted into the Bands of America Hall of Fame at Music for All's Indianapolis headquarters.
Professor Maiello's professional recording credits include conducting the American Wind Symphony and additional studio ensembles for Alfred/Belwin Publications. Locally, Maiello has served as Associate Conductor of The McLean Orchestra, McLean, Virginia; been appointed an Honorary Conductor of The United States Navy Band, Washington, D.C.; and was a participant in the National Conducting Institute with Leonard Slatkin and the National Symphony Orchestra in Washington, D.C., to which he has provided his services as a cover conductor.
Maiello received his Bachelor's and Master's degrees in Music Education from Ithaca College, Ithaca, New York in 1965 and 1967 respectively, and has extensive experience teaching in the public schools and at the university level. While at the Crane School of Music, Potsdam College of SUNY, Potsdam, New York, he served as a Professor of Music and Chairman of Performance, where he taught Advanced Instrumental Conducting, Applied Clarinet, Woodwind Techniques, Percussion Techniques and conducted the Crane Wind Ensemble.
Throughout his career, Maiello has published musical compositions for string orchestra and is the author of "Conducting Nuances" (GIA Publications, Inc.); "Conducting: A Hands-On-Approach" (Warner Bros./Alfred Publications); and co-author of "The 21st Century Band Method" (Warner Bros./Alfred Publications). In 2007, Maiello was awarded the title of "University Professor" by the GMU Board of Visitors, the highest rank given to Mason faculty members. Maestro Maiello is the founder and Conductor/Artistic Director of the American Festival Pops Orchestra, a professional ensemble in the greater Washington, D.C. metropolitan area dedicated to promoting and performing American popular music. The American Festival Pops Orchestra's May 14, 2022 performance marked the beloved Maestro's final performance with the orchestra, capping off 12 years of leadership.
---
Notes
Please note that group classes are subject to cancellation if minimum enrollment is not reached.
Be sure to check our policies and procedures regarding registration, withdrawals, refunds, and more for summer group classes.
For-credit option: A tuition refund minus a $125 cancelation fee will be given provided that notice is received by the Mason Community Arts Academy no later than 1 week before the program start date. No refunds will be granted after this date.
All students will receive a Welcome Letter via email at least 1 week before the class starts with all necessary details.
Online registration closes 2 business days before the first class, however space may still be available. Please contact academy@gmu.edu for more information. A $10 late registration fee may apply.
For additional information, please contact the Academy at academy@gmu.edu.