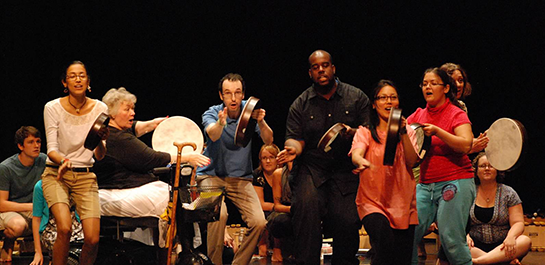 Orff Schulwerk Teacher Education
for Music Educators K-8
Celebrating over 40 years of excellence!
Join the Orff Schulwerk program at the George Mason University's Reva and Sid Dewberry Family School of Music summer institute, hosted by the Mason Community Arts Academy. Celebrating over 40 years of excellence, we have developed a comprehensive and authentic curriculum taught by experienced, enthused, and enjoyable Orff specialists.
---
What is Orff Schulwerk?
Composer Carl Orff (Carmina Burana) and his colleague Gunild Keetman developed Orff Schulwerk as an active approach to music and movement education based on the central idea that music, movement and speech form an inseparable unit. Through singing, rhythmic speech, body percussion and movement, children gain experience and develop instincts for making music in a joyful and accessible way. Orff Schulwerk uses songs, rhymes, games and dances to explore traditional and original music in the elemental style, introducing skills and concepts in a logical and integrated way. Music and movement are often accompanied by clapping, snapping and stamping, or with pitched and unpitched percussion as well as recorders. The Orff Schulwerk program at Mason is a proud member of the American Orff Schulwerk Association.
---
Levels Courses: Earn Your Certification in Orff Schulwerk
Orff Schulwerk Certification offers the opportunity for professional growth through a comprehensive program in one of the leading philosophies of active music education including musical and movement skills, theory and pedagogy for grades K-8. Certification in Orff Schulwerk is widely recognized as a significant professional step in both the public and private school sector as Orff Schulwerk often forms the foundation of a music curriculum. Learning to create original teaching materials that have meaning for your students and developing supportive connections with colleagues and instructors are only two of the important benefits of participation in the program.
The courses also help prepare teachers and therapists for the challenge of developing music programs adapted to the needs of their students.
Levels I – III are offered, and certification is awarded upon successful completion of LEVEL III – you can sign up for one course per summer.
Level courses are also eligible for Teacher Recertification Points in many school systems. Check with your district for verification.
---
Supplemental Courses
An outstanding selection of Orff Schulwerk and Kodály supplemental courses designed to enrich and extend the experiences, skills, and knowledge gained during Certification are offered the week prior to the Level courses.
---
Credit and Non-Credit Options Available
At Mason, you have the choice of taking Orff Courses as a "FOR-CREDIT" participant and receiving 3 graduate credits for each Level (applicable towards the Masters in Music Degree), or enrolling as a "NON-CREDIT" participant. While each has different requirements/costs, BOTH paths lead to a Certification award upon completion of Level III!
---
On-Campus Housing
Choose to stay in convenient apartment style accommodations during the Orff and Kodaly teacher training Supplemental and Levels weeks.
Students will be assigned to an apartment with up to 2 additional roommates. All students will have a private bedroom and shared living room, bathroom, and kitchen in the apartment. Linens (sheets, blankets, pillows, towels), toilet paper, and internet access are included.
---
Scholarships
A limited number of scholarships are available for Orff Schulwerk Level courses.
For questions regarding scholarships, please contact Shoshanah Drake at Sdrake4@gmu.edu.
Note: Some school districts will not allow uploading from school emails; applicants should try a personal email address if their school address does not work.
Orff Schulwerk Teacher Certification Program Scholarship (All Levels)
Each year eight scholarships for $500 are awarded to applicants who participate in the Orff Schulwerk Teacher Certification Program at George Mason University. Six scholarships are awarded to FOR-CREDIT students and two are awarded to NON-CREDIT students.
Carol Erion Orff Schulwerk Teacher Education Award (Level III)
The Carol Erion Orff Schulwerk Teacher Education Award honors the founder and visionary who built the George Mason Orff Schulwerk Teacher Education Program, over thirty-five years ago. Carol was a Level III teacher for many years, and although retired, she continues to be a strong influence on the course at George Mason. This $1,000 scholarship will be awarded to one student who has registered for Level III for-credit study, at GMU, July 17-28, 2023.
---
Joyce Stephansky, Program Director
joyceannr@aol.com