Summer Music Camps, Programs & Workshops
SUMMER 2019 INFORMATION WILL BE UPDATED BY JANUARY 15, 2019!
Join us for inclusive, engaging University-quality summer music camps and programs including instrumental, band, vocal and choral. In collaboration with George Mason University's School of Music, our programs are enriching, high caliber music experiences focused on both artistry and skill building.  Courses are taught by University professors, Master's degree candidates and professional Teaching Artists.  Develop your artistry with other like-minded music students!  Programs are also available for younger children just beginning their musical journey.  For more details, click on any program below.
MUSIC
Summer Flute Academy
Ages 13-18
June 18-22, 2018
Masterclasses, chamber music, flute choir and more
Summer Trumpet Academy
Ages 13-18
June 18-22, 2018
Learn different trumpet fundamentals and playing styles
Summer Percussion Academy
Ages 13-18
June 18-22, 2018
Clinics, masterclasses and percussion ensemble
Music Recording Camp
Ages 13-18
June 18-22, 2018
Record, mix and produce original music
The Art of Filmscoring
Ages 13-18
June 25-29, 2018
Techniques of composing music for motion pictures
Musical Theater Vocal Bootcamp
Ages 7-11 and 12-18
July 9-13 OR August 6-10, 2018
Singing and stage skills intensive for singers/ actors
Beginner Guitar Camps 
Ages 8-12 & 13-18
July 9-13 OR July 16-20, 2018
Learn the basics of guitar playing, notation and more
Intro to Music Theory
Ages 9-12 & 13-18
July 16-20, 2018
Develop crucial aural, analytical and interpretive music skills
Singer/Songwriter Workshop
Ages 13-18
July 23-27, 2018
Write/ arrange your own songs and get vocal coaching
Summer Piano Academy
Ages 8-18 (divided into age groups)
July 30-Aug 3 and/or Aug 6-10, 2018
Private lessons, masterclasses, ensembles, a final recital and more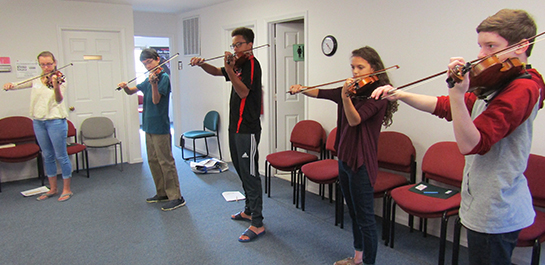 Violin Bootcamp (and Viola)
Ages 8-18
Aug 6-10 and/or Aug 13-17, 2018
Intensive for intermediate to advanced violinists (and violists)
Summer Clarinet Academy
Ages 13-18
June 18-22, 2018
Masterclasses, reed clinics, chamber music and more
Summer Trombone Academy
Ages 13-18
June 18-22, 2018
Masterclasses, clinics, audition workshop and more
Music Composition Explorations
Ages 13-18
June 18-22, 2018
Instrumental composition intensive for advanced students
Summer Musical Showcase
Ages 7-11 and 12-18
June 18-22, 2018 + shows
Musical theater production with acting, singing & dancing
Ovations Summer Strings
GRADES 7-12
June 24-29, 2018
Chamber music & orchestra for violin, viola, cello & bass
Summer Piano Adventures
Ages 6-9
June 25-29 OR July 9-13, 2018
Intro to piano, musical notation, rhythm and more
Intro to Music Composition
Ages 13-18
July 9-13, 2018
Learn basic elements of the composer's creative process
Music Sampler for Young Kids
Ages 5-8
July 23-27 OR July 30-Aug 3, 2018
A fun-filled introduction to the world of music
Advanced Music Theory
Ages 13-18
July 23-27, 2018
Prepare for college-level music theory and history
Summer Guitar Workshop
Ages 13-18
July 30-Aug 3, 2018
Explore different genres, theory, improv & more
Summer Residential Program
Ages 13-18
June 18-22, 2018
On-campus housing & meals for Music Intensive Week