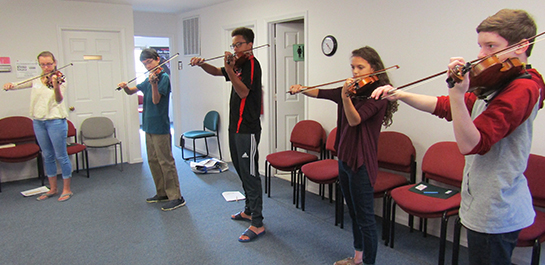 VIOLIN SUMMER BOOTCAMP
(plus Viola!)
SUMMER 2019 INFORMATION WILL BE UPDATED BY JANUARY 15, 2019!
Jumpstart your fall school year with Violin Bootcamp – whether you want to improve your technique and/ or improve orchestra audition skills, this is the place for you! This week-long program for intermediate/advanced violinists will help students improve their technical skills in a rigorous but supportive atmosphere. This program is for intermediate and advanced students ages 8-18 who have played for a minimum of 2 years and are capable of independent practice. Students should be at an ASTA Grade Level 2/Suzuki Book 2 or higher playing level.The schedule includes 4 private lessons, daily supervised practice, group classes on different topics (including fundamentals, scales, shifting, vibrato, and music theory), rehearsal with a professional collaborative pianist, masterclasses with Academy Teaching Artists and guest teachers from music colleges, and a final performance.
New for 2018! Viola section also available week of August 6-10 only!
IMPORTANT: A short audition video submission is required for this program. After registering for the program, please submit an UNLISTED YouTube video link of you performing one scale of your choice and one minute of a solo piece which reflects your highest level of ability, and email URL link to academy@gmu.edu (ATT: Claire Allen) . Videos will be reviewed as they are received.  (If the faculty does not feel Bootcamp would be a successful environment for you, we will issue a full refund.)
Ages:  8–18 years
Dates:  August 6-10 and/or August 13-17, 2018*
Times:  9:00 a.m.–4:00 p.m. (M-F)
Tuition:  $605 + $10 music fee (per week)
Location:  Mason Community Arts Academy Building in Fairfax
Aftercare not available for this program
*Violin students can sign up for one or both weeks! For viola students, choose August 6-10 only.
August 13-17, 2018
Violin Only

Violin students can choose to attend either or both weeks! To register for both, you will need to add each weekly program to your cart before final checkout/ payment.

Guest Masterclass Teachers:
 Susanna Klein, Virginia Commonwealth University (August 6-10 week)
Read about Ms. Klein
Susanna Klein is assistant professor of violin and coordinator of strings at her alma mater, Virginia Commonwealth University. Originally from Stuttgart, Germany, she has enjoyed a varied career as a violinist, educator and innovator on the East Coast. She has performed in orchestra and chamber music settings in Germany, France, Switzerland, Italy and Israel as well as throughout the United States. Currently she serves as violinist with both Trio 826, based in Iowa, and the trailblazer group Atlantic Chamber Ensemble (ACE) in Richmond. ACE has garnered national attention through its novel connections to audiences, recently detailed in Chamber Music Magazine. As an orchestral musician, Ms. Klein served as principal second violin of the Richmond Symphony for five years. Other full time orchestral appointments have been with the Colorado Symphony, Memphis Symphony, Vermont Symphony (as acting concertmaster) and Rhode Island Philharmonic. Klein has played under the baton of notable conductors such as Marin Alsop, Sejii Ozawa, Yoel Levi, and Lorin Maazel. She participated in the music festivals at Tanglewood, Spoleto Italy, Shira, Kneisel Hall, and Nova Scotia. She has performed chamber music at Wintergreen Performing Arts. the Lake George Music Festival, Loon Lake Live Festival, Cedar Valley Chamber Music Festival, and Musique au Fivales in France. A passionate educator, Susanna Klein has taught violinists aged 4 to 74. She has served on the violin faculty at the Governor's School of Virginia Summer program, the Richmond Symphony Camp, and the Boston Youth Symphony Retreat. In 2010 she founded The Orchestra Project, a VCU/Richmond Symphony camp for talented string players. Every year, she co-directs and serves on the faculty at the Orchestra Project, held on the campus of VCU. Ms.Klein holds a Bachelor of Music degree from VCU and Master of Music degree from Boston University, where she was an assistant to the legendary violinist Roman Totenberg.
 Rebecca Henry, Peabody Institute (August 6-10 week)
Read about Ms. Henry
Rebecca Henry holds the Scott Bendann Chair in Classical Music at The Peabody Institute of Johns Hopkins University in Baltimore, Maryland, where she helped create the Performance/Pedagogy Masters Degree and teaches Violin/Viola Pedagogy and an annual series of Pedagogy Workshops. As chair of the Peabody Preparatory String Department for thirty years she has guided the development of one of the premier pre-college string programs in the country, teaches violin and viola and directs the Peabody Pre-Conservatory Violin Program. Ms. Henry has presented master classes and workshops throughout USA and abroad for organizations and schools including ASTA, SSA, MTNA, Indiana University, University of Michigan, Eastman School of Music, Royal Academy of Music (Calgary), Bilkent University (Turkey) and The Royal Conservatoire of Music (Scotland). She is co-founder of www.ViolinPractice.com, which is designed to support students, teachers and parents in their journey towards effective and creative practice and her former students are performing and teaching around the world.
 Peter Wilson, George Mason University (August 13-17 week)
Read about Mr. Wilson
Peter Wilson is an engaging and multifaceted violinist and conductor whose musicianship has been noted as "first-class" by The Washington Post. He is Music Director of the Richmond Philharmonic and Waynesboro Symphony Orchestras and serves as String Section Commander for "The President's Own" U.S. Marine Band, performing as a violinist of The White House for over a quarter century. Highly respected throughout the National Capital Region, he is Concertmaster of the American Festival Pops Orchestra, has guest conducted the National Symphony and National Gallery Orchestras, and serves on the faculties of George Mason University and James Madison University as an adjunct professor of violin. He holds music degrees from Northwestern University and The Catholic University of America, where he earned a Doctor of Musical Arts. A native of Cleveland, Dr. Wilson began his musical training at age 2 and later moved to Morgantown, West Virginia, where he became the first musician ever to receive the Governor's Award for Exceptional Achievement in the Arts. Dr. Wilson began his professional career as Concertmaster of the Walt Disney World Orchestra in Florida. For over 12 years he served as Lecturer at Catholic University, where he taught conducting and string techniques. Dr. Wilson made his Carnegie Hall debut in 2015 andhas appeared as violin soloist with such legendary artists as Rosemary Clooney, Michael Feinstein, Renée Fleming, Bernadette Peters, and Trisha Yearwood. He is also cofounder and violinist of the acclaimed string duo "Bridging the Gap" (with double bassist Aaron Clay), which has been hailed for "superior arrangements and uncommon musicianship" by The Washington Post. Dr. Wilson has appeared in international magazines to include The Strad, which stated, "Wilson's performance stressed the warmth and romanticism of the music… [His] technical skills brought a sparkle to the [music] and overall, [Wilson] made music that had the stamp of quality." The Washington Post further observed his "pristine melodic lines" and "showering virtuosity." Following a performance of John Corigliano's "The Red Violin: Chaconne for Violin and Orchestra," he was praised by the award-winning composer: "[Wilson's] beautiful performance of my Chaconne…how gorgeous it was…and so true to the piece." After performing Theme from "Schindler's List" under the baton of Academy Award-winning composer John Williams, The Washington Post singled out Dr. Wilson for his "impassioned violin solo." He has soloed in many unique venues including the Presidential Retreat at Camp David and the Vatican before Pope John Paul II. Also, he is frequently invited to perform his moving violin solo arrangement of The Star-Spangled Banner for high-profile events to include Major League Baseball games. Dr. Wilson has performed with the National Symphony and the Kennedy Center Opera House Orchestras of Washington, DC and has served as a concertmaster for the Alexandria Symphony Orchestra. Phi Mu Alpha Sinfonia national music fraternity presented Dr. Wilson with the prestigious "Signature Sinfonian" award in recognition of his "outstanding commitment and dedication to the performing arts while serving as a successful role model, helping others realize their potential and exhibiting high standards of excellence."
 Akemi Takayama, Shenandoah University (August 13-17 week)
We're sorry, due to unexpected circumstances, Ms. Takayama will NOT be able to attend Violin Bootcamp this year. (Posted 05/01/18)
Bootcamp Faculty:

 Claire Allen, Violin
Read about Ms. Allen
Claire Allen is an active performing violinist and private teacher in the Washington, D.C. area. She is a Teaching Artist at Mason Community Arts Arts Academy, where she has a private studio of students ages 4 through 18 and is the Faculty Coordinator. She teaches Violin Beginnings, a series of group classes for young children just starting to play violin, teaches supplemental Suzuki-style group classes for students already in private lessons, coordinates the chamber music program, and is a co-director of the summer Violin Bootcamp. Recent student successes include five prize winners in the  Academy Music Competition, superior ratings in the Solo & Ensemble festival, and successful auditions for the American Youth Debut Orchestra and String Ensemble.
Before teaching for Mason Community Arts Academy, Claire was a teaching assistant at the Baltimore School for the Arts where she coached chamber music, directed sectionals, and assisted with the orchestras. She also taught privately in an outreach program that provided free lessons to inner-city school children, To Work In Gaining Skills (TWIGS). She has also been on faculty at the Baldwin-Wallace Conservatory Outreach Department. During her teacher training, Claire completed two levels of Suzuki teacher training at the Greater Washington Area Suzuki Institute and studied pedagogy with Rebecca Henry at the Peabody Conservatory. In summer 2013, she attended a pedagogy workshop at Indiana University directed by Mimi Zweig.
As a performer, Claire is a member of the first violin section in the McLean Orchestra. She is a founder of the Faculty String Quartet at Academy. Highlights from the 2016-2017 season include a solo recital at Holy Trinity Catholic Church, orchestral performances with the McLean Orchestra, and chamber music performances as part of Fairfax City's Spotlight on the Arts festival.
Claire created a recital to promote the music of female composers in June 2016, in which she and her students performed with pianist David Norfrey and Cora Cooper, the editor of the Violin Music By Women Anthologies. She performed works by Rebecca Clarke, Clara Schumann, and Amanda Maier. In addition to performance, Claire co-taught a teacher training workshop on the Violin Music By Women Anthologies and awareness of gender issues in the modern violin studio. Her blogs on the subject have been featured on Violinist.com.
Claire holds a Master of Music degree from Peabody Conservatory and a Bachelor of Music degree, summa cum laude, from Baldwin-Wallace College. Her primary teachers include Rebecca Henry, Keng-Yuen Tseng, Burton Kaplan, Julian Ross, and Lisa Cridge. She performs on a modern violin made by Tetsuo Matsuda.
 Matt Richardson, Violin
Read about Mr. Richardson
Matt Richardson is a Freelance Violinist/Violist and teacher in the DC Metropolitan area. He frequently performs with the Richmond Symphony Orchestra, The National Philharmonic, the New Orchestra of Washington, the Fairfax Symphony Orchestra, The Williamsburg Symphony, the Apollo Orchestra, and the Mclean Orchestra. Other orchestral experience includes performances with the Eclipse Chamber Orchestra, the Virginia Opera, Opera on the James, the Mark Morris Dance Company, the International Chamber Orchestra of Washington, the Cathedral Choral Society Orchestra, the Alexandria Symphony Orchestra, the Ars Nova Chamber Orchestra, and the American Festival Pops Orchestra. He is a frequent solo and chamber recitalist in the Metropolitan DC area, performing on such series as the Kent Chamber Music (DE) series, the Music with the Angels series (DC), the USAF Band Chamber series (VA), and the Fairfax County Spotlight on the Arts series (VA), as well as having performed in numerous DC venues including, The Kennedy Center Concert Hall and Millennium Stage, The Washington National Cathedral, The Music Center at Strathmore, The Lyceum in Old Town Alexandria, The Washington Masonic Memorial, The Church of the Holy City (DC) and many others.
Additionally, Matthew has been an active violin teacher and clinician in the Northern Virginia area since 2007, maintaining private studios at Mason Community Arts Academy at George Mason University, and out of his home in Centreville, VA. His students have gone to rank highly in all levels of the American Youth Philharmonic orchestras, the Mclean Youth Orchestra, and the Arlington Philharmonic's "Crescendo" chamber music program, as well as leading sections in the Northern Virginia and North Central Virginia Senior Regional Orchestras, and the Virginia All-State Orchestra. He has also served on the faculty of the Corcoran Chamber Music Institute at George Washington University since 2014, and the GMU Ovations Summer Strings Academy since 2009. Matt's primary teachers include Peter Haase, Zino Bogachek, Karen Johnson, Weigang Li, and Joseph Wargo.
 Rachel McAleer,Violin 
Read about Ms. McAleer
Rachel McAleer is a Violin Teaching Artist at Mason Community Arts Academy in Fairfax, Virginia. At the Academy, Rachel has a committed private studio of beginning, intermediate, and advanced violin students. In addition to teaching private lessons, Rachel teaches group classes for beginning violinists. Rachel co-directs Violin Bootcamp, a two week intensive summer camp for intermediate and advanced violinists. Rachel enjoys performing in the Washington, DC area. She regularly plays with the Arlington Philharmonic, the McLean Orchestra, and the Pan American Symphony Orchestra. With PASO, she has performed in many wonderful venues, including the Kennedy Center, the Library of Congress, and Lisner Auditorium at George Washington University.
In May 2016, Rachel completed a Master of Music program in Violin Performance at George Mason University. While at GMU, Rachel studied with June Huang and was concertmaster of the Mason Symphony Orchestra. In April 2016, Rachel gave a solo recital at the United Christian Parish in Reston, VA.
Rachel holds a Bachelor's Degree in Violin Pedagogy from the Jacobs School of Music at Indiana University, where her primary instructors were Mimi Zweig and Dr. Brenda Brenner. While at IU, Rachel studied the methodology of pedagogues, Paul Rolland and Shinichi Suzuki. These influential violin teachers greatly enhance Rachel's teaching style. While studying at IU, Rachel was a lead teacher for the Fairview Elementary Violin Project, a music program for underserved children in Bloomington, IN. She also taught supplemental lessons at the IU String Academy. From 2008-2012, she was a member of the IU symphony orchestras, performing in a vast array of orchestral, operatic, and ballet performances. In 2010, Rachel performed a solo recital at Ford Theater at Indiana University. In 2012-2013, Rachel taught elementary general music, elementary violin class, and middle school string orchestra at KIPP DC public charter school in Washington, D.C.
Rachel is committed to developing professionally as a teacher and performer. She is an active member of the American String Teachers Association and is on the board of the Virginia chapter of American String Teachers Association. One of her duties as a VASTA board member is to produce and publish 'Fingerboard' e-newsletters for the string teaching community of Virginia. In 2015, 2014 and 2012, Rachel attended the national conferences for the American String Teachers Association.
 Patrick LeStrange,Viola 
Read about Mr. LeStrange
Dr. Patrick LeStrange received his BM in Viola Performance from the Peabody Conservatory of the Johns Hopkins University. He then went on to receive a MM and DMA from the Université de Montréal. While obtaining his degrees, Patrick studied with Victoria Chiang, Jutta Puchhammer-Sédillot, and Roberta Crawford. In addition, he studied violin pedagogy with Rebecca Henry. Dr. LeStrange has taught violin and viola at Binghamton University as a guest instructor, and at the Ithaca College Summer Music Academy. He spent six summers teaching at the New York ASTA String Institute, where he was featured as the viola guest artist. Most recently, he was invited to give a Viola Master Class at Levine Music, Washington DC.
An avid chamber musician, Patrick has performed in concert venues throughout Canada and the United States, and attended the Orford Centre for the Arts Chamber Music Academy, Québec, where he worked with Jonathan Crow, concertmaster of the Toronto Symphony. Since moving to Washington DC, Patrick has performed throughout the area, and has established himself as a dedicated teacher.
 Erynn Spencer Hangen, Violin
Read about Ms. Hangen
Violinist Erynn Hangen maintains a studio in McLean, VA, where she is teaches children as young as 3, as well as the most advanced high school students. She has more than 9 years professional teaching experience and loves to continue her training as a teacher. She is currently Suzuki-certified in Books 1-6. She completed her certification with Carrie Reuning-Hummel, Mark Mutter, Teri Einfeldt, Allen Lieb, and Linda Fiore. She has also studied pedagogical techniques with Rebecca Henry at the Peabody Conservatory in Baltimore. In April 2014 she attended the Peabody Violin Pedagogy Weekend and was able to meet with many teachers there including Brenda Brenner, Darcy Drexler, and Mimi Zweig.
Erynn Hangen also performs as a soloist and collaborative musician in the metro-DC area. She performs regularly with the Fairfax Symphony Orchestra, the McLean Orchestra, the Pan American Symphony Orchestra, as well as other small ensembles. Recently, she performed as a soloist at the Argentinian Embassy in DC, and has appeared as a soloist in several recitals given at the Peabody Conservatory's Griswold Hall in Baltimore. She has performed in numerous venues, including Washington's Kennedy Center and Lisner Hall, Baltimore's Friedberg Hall, Griswold Hall, Cohen-Davison Hall, and Modell Performing Arts Center at the Lyric, the Salt Lake City Tabernacle, Abravanel Hall, Dumke Recital Hall, Thomson Recital Hall, and Kingsbury Hall, as well as the Church of St. Mary the Great in Cambridge, England.
Erynn earned the Bachelor of Music degree in Violin Performance from the University of Utah, where she studied with Leonard Braus. In May 2014, she completed her Master of Music degree at the Peabody Conservatory where she was a protégé of the distinguished faculty artist Violaine Melançon.
Directors: Claire Allen & Rachel McAleer

Email questions to academy@gmu.edu
Be sure to check our policies and procedures regarding withdrawals, refunds and more for summer programs.
All students will receive a Violin/Viola Bootcamp Welcome Letter 2018 via email at least 1 week before the program starts with all necessary details including drop off, pick up, what to bring, etc. Feel free to call the Academy office with questions at 703-993-9889.
To register by phone or request a paper registration form, please call the Academy office at 703-993-9889.
TESTIMONIALS
"The kids were immersed in music for the whole week, learned a ton and had fun the whole time. They could bond with others with similar interests." – Summer Violin Bootcamp 2017 Parent
See More Testimonials
"I love violin more than I used to. I also love my teachers. The teachers are the best teachers ever. They aren't strict or mean." – Summer Violin Bootcamp 2017 Participant
"Bootcamp is magical!! I love the part where we have competitions and masterclasses because it's super fun." – Summer Violin Bootcamp 2017 Participant
"I loved and really enjoyed it! Scales and technique really helped!" – Summer Violin Bootcamp 2017 Participant
"I feel like I learned more here than I did in all of middle school orchestra." – Summer Violin Bootcamp 2017 Participant
"Bootcamp is the best thing ever. I wish it was the whole year!" – Summer Violin Bootcamp 2017 Participant
"Violin Bootcamp really is an amazing experience, and the teachers really do make playing the violin fun." – Summer Violin Bootcamp 2017 Participant
"A big thank you to all the teachers and staff who made my bootcamp experience so special! I will miss you guys so much and I will totally come back next year." – Summmer Violin Bootcamp 2017 Participant
"I really liked masterclass because it was really cool to watch others get helped at all levels. I felt like I learned so much more in this week than I'd usually learn in a couple of months." – Summer Violin Bootcamp 2017 Participant
"Helpful tips for refining techniques was my favorite part." – Summer Violin Bootcamp 2017 Participant
"My favorite part was playing violin games." – Summer Violin Bootcamp 2017 Participant
"I really enjoyed the one-on-one time with the instructor." – Summer Violin Bootcamp 2017 Participant
Thank you to our program supporters: