Mary Lechter
Executive Director
Read More

Mary is Executive Director of Mason Community Arts Academy and served as MCAA's Associate Director for 10 years. She is a longtime member of Mason's School of Theater faculty in the areas of Performance and Theater Education. She was named a 2013 "Teacher of Distinction" and was a 2014 TEDxGeorgeMasonU speaker ("Magic Moments: the Transformative Power of Theater"). She previously taught at the Studio Theatre Acting Conservatory and the John F. Kennedy Center for the Performing Arts.
Mary founded Acting for Young People (AFYP) in 1997 and serves as Artistic Director. She has watched the company grow from being its only teacher with a sporadic program schedule in rented spaces to where it is today: an award-winning, year-round program with a full staff, working in conjunction with MCAA. 
A graduate of University of Maryland, College Park with a Bachelor of Arts in Theater and Speech Communications, Mary has worked professionally as an actor on stage, screen and radio in the Metropolitan Washington area, Los Angeles, and New York. She is a proud member of SAG-AFTRA and Actors Equity Association.
Mary has directed several of AFYP's student showcase productions, the Mason Players' productions of An Experiment With an Air Pump and Shakespeare in Hollywood, and several staged readings. She is also a casting consultant and co-producer of independent films.
Kaity Ormesher
Assistant Director of Outreach and Programs
Read More
Kaity graduated from George Mason University with a Bachelor of Arts in Theater in 2011 and a Master of Arts in Arts Management in 2019. Kaity has been a part of the Acting for Young People team since 2008, working as a Teaching Artist in after-school, summer camp, and showcase programs, and as the resident stage manager for all of AFYP's educational and touring productions. She also contributes to the day-to-day operations of AFYP as an Assistant Director of Outreach and Programs.
Kaity has an extensive background in the arts and education. She has taught children ranging from early childhood through high school levels for over eight years. In her time as a student at GMU, she participated in many stage productions as an actor, stage manager, and technician. Kaity served on the board for GMU's producing group, the Mason Players, for three years, and co-founded GMU's chapter of Alpha Psi Omega, the theater honor fraternity. She received the Chris Parsons Achievement Award for her work with the theater department in 2010. Kaity has also worked professionally as a stage manager in the Washington, D.C. metro Area.
Alaina Santos
Director of Programs
Read More
Alaina graduated Magna Cum Laude from George Mason University with a Bachelor of Arts in Theater in 2012. Having previously worked with Mason Community Arts Academy as Coordinator of Private Music Lessons, Alaina now joins us as Director of Programs supporting MCAA's year-round classes and summer programming. Alaina has been a part of the Acting For Young People team since 2009 as a Senior Teaching Artist, Administrative Assistant, and Resident Actor. Alaina is also the creator of AFYP's Adventures educational program track offered during our year-round Saturday Showcase programming.
Alaina has held various positions with non-profit organizations in the Washington, D.C. metro area including Cultural DC as Assistant Producer and corporate roles in program management and event planning. She has always had a passion for the arts and strongly believes in the importance of arts education in the community. Alaina is thrilled to continue to be a part of MCAA's vibrant future.
Morgan Johnson
Registration & Programs Coordinator
Read More
Morgan serves as Coordinator of Private Music Lessons at Mason Community Arts Academy. With a background in arts management, music & audio engineering, and arts operations, she has held many diverse roles within the arts. These roles include positions with Studio Center Total Production in Virginia Beach, The Alliance of Artists and Recording Companies in Alexandria, and Strathmore Music Center in North Bethesda, Maryland. She has over 20 years of experience in live sound reinforcement and has previously worked as a private music instructor teaching piano and voice. Before joining the Academy, Morgan served four years as Studio Manager at Listen Vision Studios in Washington, D.C.
Morgan received her Bachelor of Science from Hampton University where she studied Music Engineering Technology with a concentration in Vocal Performance (Mezzo-Soprano). She has also received her Master of Arts in Arts Management from George Mason University.
With a passion for music, photography, arts technologies, and arts education, especially arts for the aging, Morgan believes that the arts provide developmental, therapeutic, and healing benefits for all. She is also dedicated to the advancement of blockchain technology within all facets of the arts.
Matthew Geske
Operations Manager
Read More
With a Bachelor of Music in Music Industry from Minnesota State University — Moorhead and a Graduate Certificate in Arts Management from George Mason University, Matt has enjoyed a varied and well-rounded career including dancer, choreographer, dance instructor, booking agent, art gallery sales, marketer, program manager, event coordinator, grant writer and more. Now with more than a decade of experience at the Academy, Matt provides administrative and creative support to all areas of the organization.
Regina Schneider
Marketing & Communications Coordinator
Read More
Regina serves as the Marketing and Communications Coordinator at the Mason Community Arts Academy. With a higher education background, Regina uses her knowledge and skills to help the Academy to fulfill its mission. Regina graduated with a Bachelor's in Anthropology and a Master's of Education from Louisiana State University and is specialized in marketing, communications, and graphic design. She previously worked in different university focus areas, including Housing and Enrollment Management.
Regina is passionate about the arts and loves to explore creative outlets. She enjoys painting, interior design, and playing the ukulele and piano.
Ariel Williams
Assistant Coordinator of Programs and Operations
Read More
Ariel serves as the Assistant Coordinator of Programs and Operations at Mason Community Arts Academy. She graduated with a Bachelor's of Music Education from George Mason University and a Master's of Music Performance from the University of Tennessee-Knoxville. Ariel has served in a variety of roles within MCAA, including as a saxophone instructor, an on-site supervisor for summer music programs, and as a part-time administrative assistant. Ariel specializes in saxophone performance and music education in addition to arts administration and is passionate about supporting the Academy's mission and outreach in the community.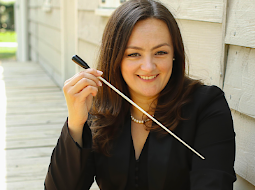 Dr. Samantha Clarke
Instruments in the Attic (IiA) Coordinator
Read More
Dr. Samantha Clarke, conductor and flutist, is a Long Island native of East Rockaway, New York. She is pursuing a Doctor of Musical Arts (DMA) degree in conducting at George Mason University. Samantha defended her dissertation and plans to graduate in May 2023.
Samantha is extremely grateful for the opportunity to study conducting with Dr. William Lake, Jr. and to have gotten to work with and guest conduct the Mason Symphonic Band and Wind Symphony throughout this academic year. Throughout her coursework at Mason, Samantha held the role of Doctoral Assistant Conductor to the Symphonic Band and Wind Symphony as well as Graduate Teaching Assistant in the Dewberry Family School of Music. She studied conducting with Prof. Mark Camphouse and Prof. Anthony Maiello, and flute in the studio of Prof. Julianna Nickel.
Samantha is a member of the staff of Mason Community Arts Academy, where she coordinates instrumental music education outreach in local schools through their Instruments in the Attic donation program.
Samantha has taught music and band at the elementary, middle and high school levels on Long Island. Additionally, she served as Associate Conductor of the Long Island University (LIU) Post Wind Symphony from 2017 to 2019. Samantha holds both a master's degree in conducting and a bachelor's degree in music education from LIU Post. While pursuing her master's degree, she served as the Graduate Assistant Conductor to the Wind Ensemble, Wind Symphony, String Ensemble and Orchestra, studying conducting under Dr. James McRoy. Samantha was also very fortunate to have studied flute with Karla Moe for 10 years.
As an avid performer both as a soloist and chamber musician, Samantha has been a flutist and woodwind teacher for the Songe d'été en musique School and Festival in Quebec, Canada since 2012. She has also performed abroad in Puerto Rico with the LIU Post Wind Symphony and in Australia at the Sydney Opera House as principal flutist of the Long Island Symphonic Winds.
Samantha's performance honors include participation in the Long Island Flute Club Competition twice, placing first in 2012 and third in 2011. Additionally, she was featured as a soloist with the LIU Post Wind Ensemble at Tilles Center in April 2014 as a winner of the LIU Post Concerto Competition.
As an author, Samantha completed a Music Education Research Study for her master's thesis in 2017 titled: "A Comparative Study of Best Teaching Practices Across Three High School Performance Ensembles: Band, Chorus and Orchestra." More recently, she published an article in the Summer 2020 National Band Association (NBA) Journal, a book review in the 2019 College Band Directors National Association (CBDNA) Fall Report and has a contract with GIA Publications (Chicago) for a book detailing the life and teachings of Anthony Maiello.
You can visit her website at samanthakclarke.com