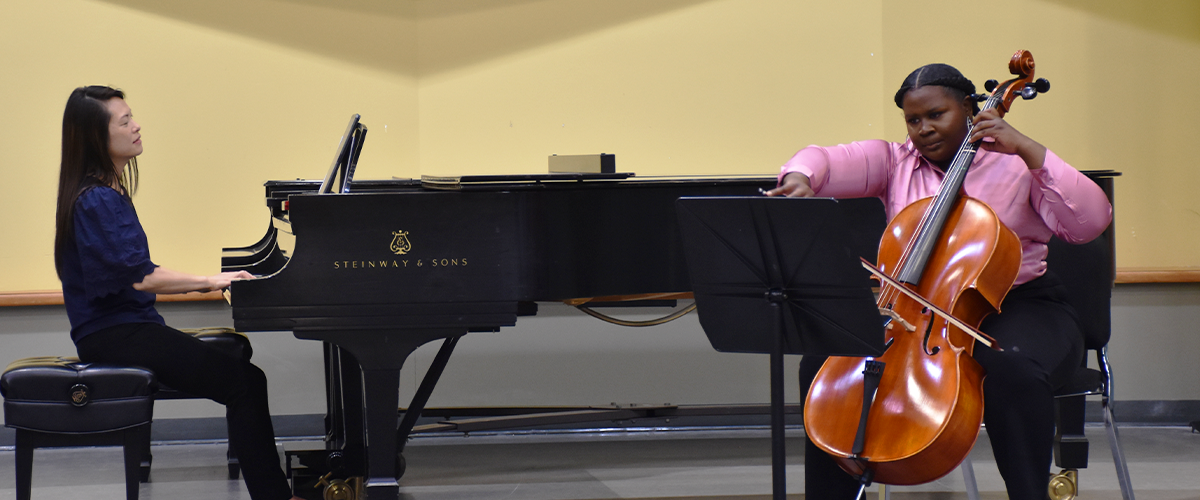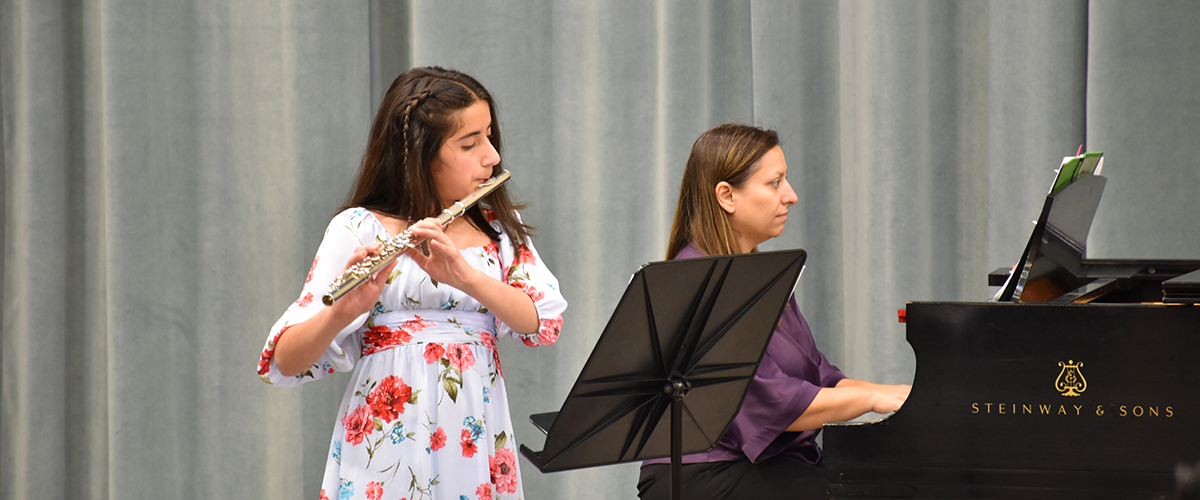 Private Music Lessons
For All Ages
In-Person & Online
Private lessons may be started at any time during the year!
Whether you're a beginner or advanced, a young child or seasoned adult, you are welcome to join us for private music lessons. Improve your technique and repertoire, enjoy music-making and performing all while creating new friendships with other musicians. Mason Community Arts Academy in Fairfax, VA offers the perfect blend of university-quality music teachers and a supportive environment with other community members. Students of all ages at Mason Community Arts Academy are learning:
Bassoon
Cello
Clarinet
Double Bass
Euphonium
Flute
French Horn
Guitar
Oboe
Piano
Saxophone
Trombone
Trumpet
Tuba
Ukulele
Voice
Viola
Violin
Our Private Lesson Coordinator can help you select a teacher, schedule a consistent weekly day and time for lessons, and set up a trial lesson* to ensure a good fit before committing to the remainder of the current semester (Fall, Spring or Summer). Be sure to read the Private Lesson Student Handbook for all our policies and procedures.
*Please note that the Trial Lesson is a paid lesson (see rates below).
---
Faculty
We have a full range of teacher categories to choose from, including:
Teaching Artists – University trained musicians with substantial teaching experience as well as professional performing experience
Instructors – University trained musicians with professional teaching experience
Junior Instructors – Select upper-level Mason School of Music Undergraduate students specifically chosen by their professors to teach
Note: Because we are part of George Mason University, on occasion, Mason School of Music students may observe and/or assist the instructor with lessons or classes. This is for educational purposes only and is completely optional.
Private Lessons or Group Classes
Private lessons offer individual instruction geared specifically to each student's needs and goals. All experience levels and ages are welcome, however we recommend beginners to start with specific group music classes when possible, then progressing to private music lessons. For voice lessons, most teachers recommend starting when a student's voice is fully developed after puberty.
We also offer group classes in special topics for current private lesson students seeking to supplement their studies. For violin students looking for a Suzuki inspired approach, we recommend pairing our Violin Adventures classes with private lessons for an immersive experience. Feel free to contact us for advice!
Rates
Students can choose 30-minute, 45-minute or 60-minute lessons. Options for teacher category are dependent on current availability and schedule. Students commit to a weekly lesson each semester (following a trial lesson). Rates vary according to lesson length and teacher category as follows:
Teaching Artist Rate Per Lesson:
30min= $54.00 45 min= $70.50 60 min= $84.00
Instructor Rate Per Lesson:
30min= $44.50 45 min= $55.50 60 min= $66.50
Junior Instructor Rate Per Lesson:
30min= $39 45 min= $50.00 60 min= $61.50
Total cost of lessons will depend on the number of weeks remaining in the semester at the time of registration. Additionally, all students pay a $35 program fee per semester ($50 max per family). Students who register with 4 weeks or less left in the current semester will pay only a $15 program fee ($25 max per family). Read about our withdrawal policy in the Student Handbook below.
Payment Plan Available–We also provide monthly installments. A $10 Payment Plan Fee will be added to your receipt
In-Person & Online Options
In-Person Option
All students are welcome to schedule fully in-person lessons that will be held at our Academy building on a weekly basis.
Fully Online Option
Families may choose the online lesson option. Please note that upon registration you will be committed to online lessons for the entire semester and will not be able to have occasional in-person lessons at the Academy.
Semester & Dates
Fall Semester | August 28 – December 16, 2023
Skip Dates:
Monday, September 4 (Labor Day)
Wednesday, November 22- Saturday, November 26 (Thanksgiving)
Recital Dates:
Saturday, December 9 & Sunday December 10, 2023
Registered students receive an email to sign up for a recital day and time, and a subsequent email to notify them of their assignment.
Other Opportunities for Private Lesson Students
Recitals: All private lesson students are encouraged to participate in our Winter and Spring Recitals which take place in the de Laski Performing Arts Building on the Mason campus – friends and family are welcome. Other performance opportunities are also available such as the Spring Music Competition and the City of Fairfax Spotlight on the Arts event.
Group Classes: We offer group classes in special topics for current private lesson students seeking to supplement their studies (offerings vary by semester). For violin students looking for a Suzuki inspired approach, we recommend pairing our Violin Adventures classes with private lessons for an immersive experience.
Studio Classes: Many teachers at the Academy offer studio classes on Friday evenings for extra enrichment and performance practice. Check with your instructor for details.
MCAA Music Competition: The Academy offers a biennial music competition to all private lesson students and the community. All applicants will receive feedback from University educators on their submissions and select high-performing students will also receive the chance to perform in the Competition Honors Recital. Visit our Music Competition webpage for more details.
Location & Hours
All lessons take place at the Academy building at 4260 Chain Bridge Rd in Fairfax (near Mason campus).
We are open for Private lessons during the following times in Fall and Spring:
In-Person Lessons:
Monday-Thursday: 10 am – 9 pm
Fridays: 10 am – 8 pm
Saturdays: 10 am – 3 pm
Online Lessons:
Mondays – Fridays: 9 am – 9 pm EST
Saturdays: 9 am – 4 pm EST
We are open for Private lessons at the following times during the Summer:
In-Person Lessons:
Mondays – Thursdays: 11 am – 8 pm
Fridays: 11 am – 4 pm
Saturdays: 10 am – 2 pm
Online Lessons:
Mondays – Fridays: 9 am – 9 pm EST
Saturdays: 10 am – 2 pm EST
Missed Lesson Policy
Note: All make-up lessons will be held online on the instructor's schedule.
Due to Academy space limitations, and out of respect for our faculty's schedules, lessons missed by students are not eligible for make-up lessons or for refunds.
If a lesson must be missed due to illness or a family emergency, one make-up lesson in the Fall and two make-up lessons in the Spring will be given, with sufficient notice. Notice must be given in writing to the instructor by 11 am (EST) the day of a weekday lesson, or by 7 pm (EST) on Friday for a Saturday lesson. There are no make-ups for missed trial lessons. Due to the flexible scheduling offered for the Summer semester, no make-ups will be given.
If a student misses a make-up lesson scheduled with the Academy and the instructor, then no additional make-up will be offered and no refund will be given.
Any lessons canceled by the Academy or by the instructor will be made up, and will not count toward the student's make-up limit.
If students arrive late, they may use the remaining time of their lesson with no refund or makeup offered. Instructors are not required to teach students arriving later than 15 minutes after the scheduled lesson time.
To learn more about our makeup lessons and other policies, please download and read our Private Lesson Student Handbook here:
Online Lesson Policies
Technology Requirements
All online lesson students must have access to a device with up to date audio/visual capabilities. This includes a computer (desktop or laptop), tablet, or cell phone with a working camera and microphone. Zoom is George Mason University's recommended platform for video/conference calls. More information on how to access and enroll in these online platforms will be provided to you at the time of your online lesson registration.
Recording
Recording lessons in any form is strictly prohibited without prior written consent from the student/parent (if a minor) and instructor.
Request More Information and Schedule a Trial Lesson Today!