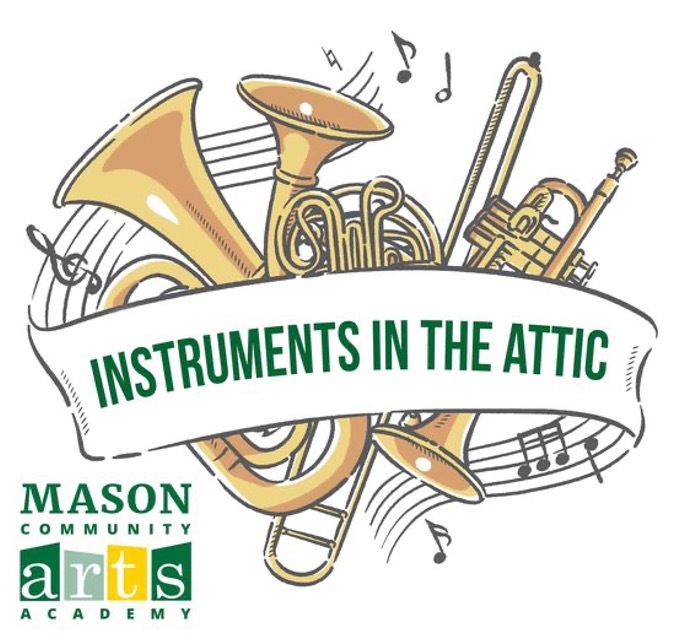 Instruments in the Attic Donation Program
Supporting Music Education through Community Connection since 2008!
Instruments in the Attic makes music education accessible through community connection. The program recycles used instruments donated by generous community members to music programs and students in need – locally, nationally, and internationally.
Established in Fall 2008, Instruments in the Attic (IiA) has provided hundreds of instruments to teachers and students throughout Virginia, with a focus on donations to Title I schools. In addition to helping local school band and orchestra programs, IiA has supplied instruments to music students throughout the United States, and internationally (through special arrangements) to students in Africa, Costa Rica, Haiti, Jamaica, and El Salvador.
Instruments in the Attic also assists university students at Mason's Dewberry Family School of Music by providing instruments for music students to build their skills on secondary instruments as part of their training to become music educators. Additionally, IiA supplies instruments for community initiatives and outreach projects, such as our Instrument Petting Zoos and Teaching Scholars program, that provide students with hands on learning experiences.
This is all made possible by the thousands of instruments donated by community members seeking to give purpose to the instruments lying unused in their attics, garages, and storage closets. Instruments in the Attic accepts instruments of all types and conditions. Upon donation, instruments are assessed based on repair need and are categorized accordingly. If an instrument ends up being beyond economical repair or no longer musically capable, our program recycles the instruments in creative ways. Examples include using the instrument as a tool for repair practice, or providing the instrument as subject for still life paintings and other art projects for local teachers. In other words, no donation goes to waste!
To make an instrument donation:
Stop by the Mason Community Arts Academy Main Office (Unit A-5) at 4260 Chain Bridge Rd., Fairfax, VA any time during our listed business hours!
For instrument donations of 5 or more, please contact us ahead of time by phone at (703)993-9889, or via email at academy@gmu.edu to arrange a drop-off date and time.
Upon arrival, you'll fill out a short donation form, which allows us to provide you with a donation acknowledgement letter that serves as a donation receipt for your records or for income tax purposes.
*Note: we are not always able to accept piano/organ donations due to space and piano moving funds. If you have one you would like to get to a new home, email us a description of the instrument and a photo to academy@gmu.edu, and we will share it with our Academy community in our weekly E-Newsletter.
To request instruments from Instruments in the Attic:
Eligibility
Any teacher or program director engaged in teaching music to students is eligible to receive instruments from the Instruments in the Attic program. This includes all music education settings, such as school band or orchestra programs, private lesson studios, or other community-based music programs.
Students under the guidance of a teacher in private lessons or other structured music education program can also apply to receive instruments from Instruments in the Attic (must include contact information for current teacher or music director in your application).
Make a Donation
Monetary donations are also needed to support repair, restoration, and basic upkeep of instruments. Donate today to Instruments in the Attic and help us continue to support music education!
Special Thanks to Our Sponsors