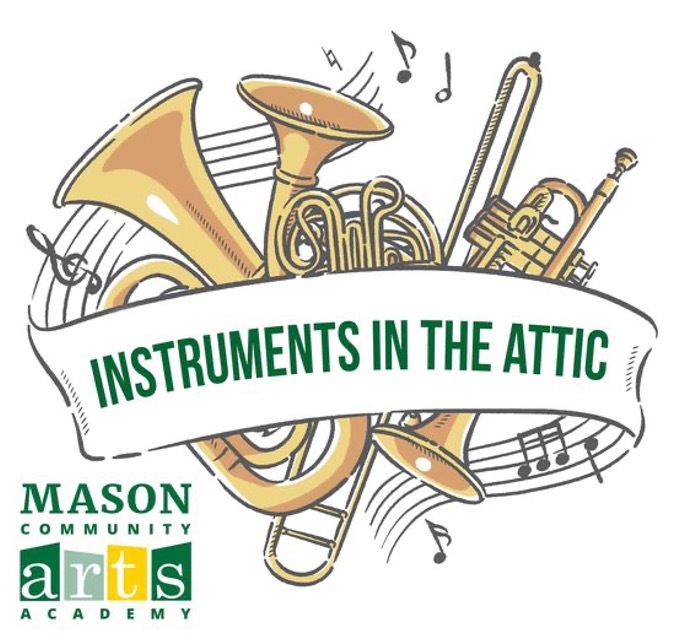 Supporting Music Education through Community Connection since 2008!
Instruments in the Attic makes music education accessible through community connection. The program recycles used instruments donated by generous community members to music programs and students in need – locally, nationally, and internationally.
Established in Fall 2008, Instruments in the Attic (IiA) has provided hundreds of instruments to teachers and students throughout Virginia, with a focus on donations to Title I schools. In addition to helping local school band and orchestra programs, IiA has supplied instruments to music students throughout the United States, and internationally (through special arrangements) to students in Africa, Costa Rica, Haiti, Jamaica, and El Salvador.
Instruments in the Attic also assists university students at Mason's Dewberry Family School of Music by providing instruments for music students to build their skills on secondary instruments as part of their training to become music educators. Additionally, IiA supplies instruments for community initiatives and outreach projects, such as our Instrument Petting Zoos and Teaching Scholars program, that provide students with hands on learning experiences.
This is all made possible by the thousands of instruments donated by community members seeking to give purpose to the instruments lying unused in their attics, garages, and storage closets. Instruments in the Attic accepts instruments of all types and conditions. Upon donation, instruments are assessed based on repair need and are categorized accordingly. If an instrument ends up being beyond economical repair or no longer musically capable, our program recycles the instruments in creative ways. Examples include using the instrument as a tool for repair practice, or providing the instrument as subject for still life paintings and other art projects for local teachers. In other words, no donation goes to waste!
---
To Make a Donation
Instrument
Stop by the Mason Community Arts Academy Main Office (Unit A-5) at 4260 Chain Bridge Rd., Fairfax, VA any time during our listed business hours!
For instrument donations of 5 or more, please contact us ahead of time by phone at (703)993-9889, or via email at academy@gmu.edu to arrange a drop-off date and time.
Upon arrival, you'll fill out a short donation form, which allows us to provide you with a donation acknowledgement letter that serves as a donation receipt for your records or for income tax purposes.
*Note: we are not always able to accept piano/organ donations due to space and piano moving funds. If you have one you would like to get to a new home, email us a description of the instrument and a photo to academy@gmu.edu, and we will share it with our Academy community in our weekly E-Newsletter.
Monetary
Monetary donations are also needed to support repair, restoration, and basic upkeep of instruments. Donate today to Instruments in the Attic and help us continue to support music education!
To Request Instruments from Instruments in the Attic
Eligibility
Any teacher or program director engaged in teaching music to students is eligible to receive instruments from the Instruments in the Attic program. This includes all music education settings, such as school band or orchestra programs, private lesson studios, or other community-based music programs.
Students under the guidance of a teacher in private lessons or other structured music education program can also apply to receive instruments from Instruments in the Attic (must include contact information for current teacher or music director in your application).
---
Special Thanks to Our Sponsors
---
Staff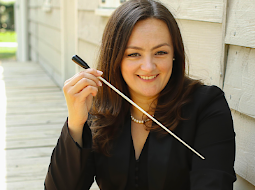 Dr. Samantha Clarke
Instruments in the Attic Coordinator
Read More
Dr. Samantha Clarke, conductor and flutist, is a Long Island native of East Rockaway, New York. She is pursuing a Doctor of Musical Arts (DMA) degree in conducting at George Mason University. Samantha defended her dissertation and plans to graduate in May 2023.
Samantha is extremely grateful for the opportunity to study conducting with Dr. William Lake, Jr. and to have gotten to work with and guest conduct the Mason Symphonic Band and Wind Symphony throughout this academic year. Throughout her coursework at Mason, Samantha held the role of Doctoral Assistant Conductor to the Symphonic Band and Wind Symphony as well as Graduate Teaching Assistant in the Dewberry Family School of Music. She studied conducting with Prof. Mark Camphouse and Prof. Anthony Maiello, and flute in the studio of Prof. Julianna Nickel.
Samantha is a member of the staff of Mason Community Arts Academy, where she coordinates instrumental music education outreach in local schools through their Instruments in the Attic donation program.
Samantha has taught music and band at the elementary, middle and high school levels on Long Island. Additionally, she served as Associate Conductor of the Long Island University (LIU) Post Wind Symphony from 2017 to 2019. Samantha holds both a master's degree in conducting and a bachelor's degree in music education from LIU Post. While pursuing her master's degree, she served as the Graduate Assistant Conductor to the Wind Ensemble, Wind Symphony, String Ensemble and Orchestra, studying conducting under Dr. James McRoy. Samantha was also very fortunate to have studied flute with Karla Moe for 10 years.
As an avid performer both as a soloist and chamber musician, Samantha has been a flutist and woodwind teacher for the Songe d'été en musique School and Festival in Quebec, Canada since 2012. She has also performed abroad in Puerto Rico with the LIU Post Wind Symphony and in Australia at the Sydney Opera House as principal flutist of the Long Island Symphonic Winds.
Samantha's performance honors include participation in the Long Island Flute Club Competition twice, placing first in 2012 and third in 2011. Additionally, she was featured as a soloist with the LIU Post Wind Ensemble at Tilles Center in April 2014 as a winner of the LIU Post Concerto Competition.
As an author, Samantha completed a Music Education Research Study for her master's thesis in 2017 titled: "A Comparative Study of Best Teaching Practices Across Three High School Performance Ensembles: Band, Chorus and Orchestra." More recently, she published an article in the Summer 2020 National Band Association (NBA) Journal, a book review in the 2019 College Band Directors National Association (CBDNA) Fall Report and has a contract with GIA Publications (Chicago) for a book detailing the life and teachings of Anthony Maiello.
You can visit her website at samanthakclarke.com
Latest News