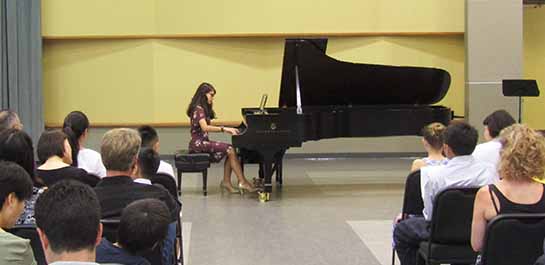 SUMMER 2020 INFORMATION WILL BE AVAILABLE IN JANUARY
MASON SUMMER PIANO ACADEMY
Featuring Mason Community Arts Academy Teaching Artists, this program provides piano students with a week of focused musical study in an inspiring group environment. Participating in private lessons, masterclasses, piano ensembles, and music theory/ history sessions, students will grow in their love of and enthusiasm for piano music. Guided practice sessions will help students to improve quickly. The week will culminate in a recital performance for families and friends on the last day (Friday) at 2:30 pm.
The skill level is from beginner (minimum 1 year of private lessons) to advanced, and students are grouped within the program according to their level and age.
Special features for Summer 2019:
– A special masterclass with Mason School of Music Piano Professor Dr. Anna Balakerskaia
Ages:  8-18 years
Dates:  July 29-August 2 and August 5-9, 2019
Times: 9:00 a.m. – 4:00 p.m. (M-F)
Tuition:  $555 per week
Location:  Mason Fairfax Campus, Performing Arts Building
You can choose to attend either or both weeks! To register for both, you will need to add each weekly program to your cart before final checkout/ payment. 
An "Extended Day" option is available for this program for the week of July 29-Aug 2 only from 4-6 pm for $90/week, located in Mason's Performing Arts Building and staffed by the Academy's Summer Staff. After registering for this program (but before final checkout/ payment!), search for "Extended Day" or "After Care", choose the corresponding week, and add to your cart – or Register Here separately.
 Director/ Instructor:  Michelle Richardson
Email questions to academy@gmu.edu
Read about Ms. Richardson
Michelle Richardson holds a BM and MM from George Mason University where she studied with Dr. Anna Balakerskaia. She is currently pursuing her Doctorate of Musical Arts degree, continuing her studies with Dr. Balakerskaia. Michelle is a sought after soloist, chamber musician, and accompanist in the Metro D.C. Area. Highlights of her solo and chamber performances include her solo debut with the George Mason Symphony Orchestra playing Rachmaninoff's Piano Conerto No. 2, chamber recitals at the Lyceum in Alexandria, the "Music with the Angels" Concert series at the Church of the Holy City, Fairfax County "Spotlight on the Arts" festival, as well as at George Mason's All-Steinway Concerts and ARTS By George series. In the summer of 2010, Michelle was invited to attend the Orfeo International Music Festival in Vipiteno, Italy. There, she was featured on multiple programs as a soloist and was a finalist in the Orfeo International Music Competition. In May of 2013, Michelle was a featured soloist in the GMU School of Music Honors Recital. Additionally, she is a frequent performer in area churches including Community of Faith United Methodist Church, Leesburg Community Church, Galilee United Methodist Church, and Accotink Unitarian Universalist Church. She is also a sought after accompanist for local recitals and student solo events.
In addition to her performing, Michelle has been an active teacher in the area for the last eight years. Along with her performance bachelor's degree, she completed all the coursework toward a music education degree. In August of 2015 she was faculty on the Corcoran Chamber Music Institute (formerly known as the Summer Piano and Chamber Music Institute at George Washington University). She currently is adjunct faculty at George Mason University where she teaches keyboard classes throughout the year. She also is an active faculty member at the Potomac Arts Academy at George Mason University, where she teaches at summer piano programs, group classes, and maintains a large piano studio of all ages throughout the year. She is experienced teaching all levels of piano, and has prepared students for successful auditions to their top choice music schools with scholarship.
Instructor: Faith Zuñiga
Read about Ms. Zuniga
Faith Zúñiga is a Doctor of Musical Arts student at George Mason University, where she studies with Dr. Anna Balakerskaia. She has studied at the Conservatory of East Central Illinois; the Interlochen Arts Academy in Michigan; the Instituto Superior de Artes in San Jose, Costa Rica; the Conservatorio Benedetto Marcello in Venice, Italy; the University of Illinois at Urbana-Champaign, and Indiana University at South Bend. Faith was a 1st Prize winner in the 2014 George Mason University Concerto Competition. She performed Prokofiev Concerto No. 1 and Beethoven Concerto No. 5 with the GMU Symphony in 2014. She also won 1st Place in the 2013 UIUC Clara Rolland Undergraduate Piano Competition. Additional competition awards include Semifinalist in the Victor Elmaleh Concert Artists Guild Competition, Semifinalist in the Byrd International Piano Competition, and 2nd Place in the American Protégé International Piano and Strings Competition.
Ms. Zúñiga took part in the inaugural edition of the Valencia International Piano Academy in Spain, where she studied with teachers from Juilliard, Peabody, and the Madrid Escuela Superior de Musica Reina Sofia. A native of Illinois, Faith has performed in Costa Rica, Italy, Spain, and the United States. Faith is passionate about teaching! Among other achievements, her students have won the highest ratings at the NVMTA Spring Festival.

 Instructor: Andy Miller
Read about Mr. Miller
Andrew Miller, a native of Springfield, VA, is an accomplished pianist whose versatility and commitment to musicianship are exhibited by his active participation as a soloist, accompanist, chamber musician, and instructor in the Northern Virginia area. Andrew is a current third year doctoral candidate of the D.M.A program in Piano Performance at George Mason University and has had the privilege of studying with Dr. Anna Balakerskaia since 2010. During his studies at GMU, Andrew was selected as a winner of the 2016 GMU Concerto Competition and performed for the Scholarship Benefit Concert with the Mason Symphony Orchestra in May of that year. Andrew was a winner of the GMU Concerto Competition in 2013 and performed Gershwin's Rhapsody in Blue in the Young Masters Concert before the completion of his Master of Music in Piano Performance (May 2013). He participated as a performer and chamber musician in the Orfeo International Music Festival held in Vipiteno, Italy (2011).
In May 2010, Andrew graduated Cum Laude with a Bachelor of Music in Piano Performance from Christopher Newport University. Under the tutelage of CNU professors, Dr. Jeffrey Brown and Dr. Amanda Halstead, Andrew won the CNU Concerto/Aria Competition twice and was given the privilege of performing Beethoven's Third Piano Concerto and Gershwin's Concerto in F with the Christopher Newport University Orchestra. In addition to his orchestral recognition, Andrew received first place in the annual Friends of Music Scholarship Recital and was nominated two times for the "People's Choice" Award. He has performed various musicals for TheaterCNU including the production of Urinetown (2007) as a member of the "Pit Stop Band" and was Assistant Musical Director for their production of Little Shop of Horrors (2008). During the spring of 2009, he was chosen by the faculty and was inducted into the honorary music fraternity Pi Kappa Lambda, which recognizes students for their advanced academic and musical accomplishments. In addition to his keyboard experiences, he enjoyed playing trombone as a member, and later as a drum major (2009), of the CNU Marching Captains.
Today, Andrew works alongside keyboard professors as Graduate Lecturer at GMU, maintains a private studio of 30 local students, as well as working as a vocal coach/accompanist for GMU private voice studios (since 2011), VA Hills Baptist Church (since 2012), and the Eastern Virginia School for the Performing Arts (2009-2010). In addition to his professional coaching, Andrew has appeared as a soloist/accompanist for the concert series "Music for the Angels" at the National Swedenborgian Church in Washington D.C and is a current recipient of the Linda Monson Endowment Scholarship at George Mason University.
 Instructor: Misha Tumanov
Read about Mr. Tumanov
Born in Ukraine, Misha Tumanov started his musical education in Costa Rica under the tutelage of Dr. Alexandr Sklioutovsky, at the Instituto Superior de Artes and the Pre-College Program of the National University of Costa Rica. At age seventeen, Misha graduated from the National University with a Bachelor's degree in piano performance with honors for artistic excellence. He went on to Ball State University for a Master's degree and an Artist Diploma under Dr. Ray Kilburn. Misha has taught extensively at both the pre-college and college levels, serving on the faculty of the Pre-College Program of the National University of Costa Rica, the Instituto Superior de Artes, Ball State University, and the University of Maryland. Misha's students have performed at some of the most prestigious halls in the US, including the Carnegie Hall and the Kennedy Center, as well as garnered success at international competitions, such as the International Competition of Slav Music in Paris.
Misha is a frequent performer at festivals and conferences, both as a solo and collaborative pianist, including the International Double Reed Society conference, MTNA, Piano Technicians Guild, and Orfeo Music Festival in Italy. Misha has been featured as a soloist with the National Symphony Orchestra of Ukraine, the National and Youth Symphony Orchestras of Costa Rica, as well as the Ball State Symphony Orchestra. Currently, Misha is working on his Doctoral Dissertation project at University of Maryland, recording works of the early Soviet Avant-garde, including Shostakovich, Prokofiev, Myaskovsky, Feinberg, and Roslavets.
Be sure to check our policies and procedures regarding withdrawals, refunds and more for summer programs.
All students will receive a Mason Summer Piano Academy Welcome 2019 via email at least 1 week before the program starts with all necessary details including drop off, pick up, what to bring, etc. Feel free to call the Academy office with questions at 703-993-9889.
Questions about parking on campus?  Find answers here.  
To register by phone or request a paper registration form, please call the Academy office at 703-993-9889.
TESTIMONIALS
"My favorite part was the four semi-private (2 students) professional lessons. I also loved the t-shirt that the students received. Kudos to the designer." – Mason Summer Piano Academy 2018 Parent
See More Testimonials
"I really appreciated the opportunity provided for my child to see a wide variety of style and performance." – Mason Summer Piano Academy 2017 Parent
"My favorite part was getting a chance to work with new teachers and to meet other kids very interested in piano." – Mason Summer Piano Academy 2017 Participant