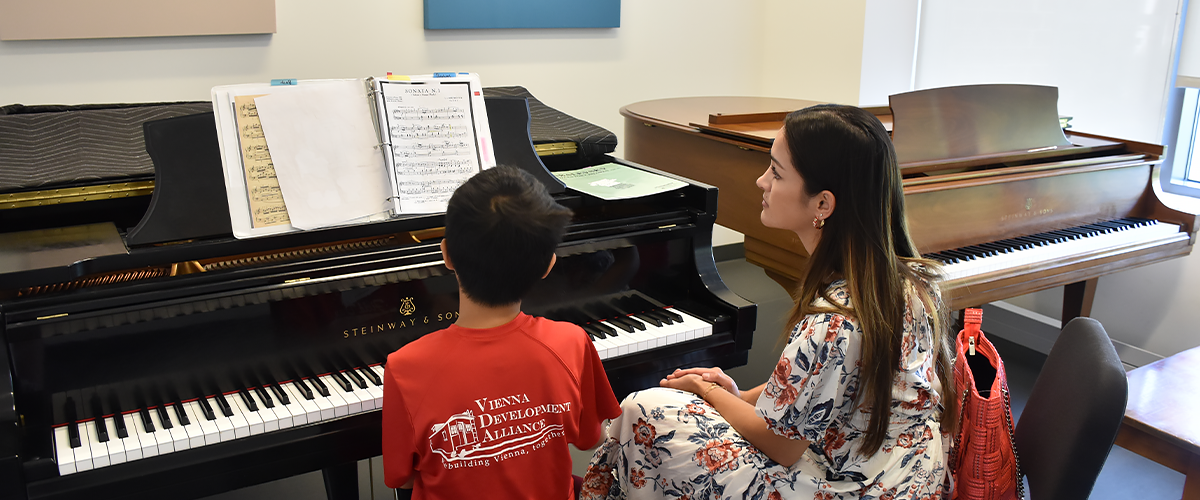 Overview
An exciting program for piano students to learn more about piano while making musical friends! During this week of focused study in an inspiring environment, participants will receive four private lessons throughout the week. Students will also attend classes on music theory and history, and creatively explore other aspects of music in a fun and dynamic setting. At the conclusion of the week, there will be a final public performance at Harris Theater.
NOTE: The skill level is from beginner (minimum 1 year of private lessons) to advanced. Younger students will be considered on a case-by-case basis. Please select that you are requesting an age exception for the camp on the application. Email academy@gmu.edu for more information.

Older students ages 12-18 may join our Advanced Piano Academy.
Students will receive:
30 minute private lesson
Classes in music history, theory, and other piano topics
Masterclasses with guest artists
Performances, games, and musical activities
Schedule (Tentative)
| | |
| --- | --- |
| | Schedule subject to change. |
| 9:00 AM | Orientation |
| 9:30 AM | Practice |
| 10:30 AM | Class (Music Appreciation) |
| 11:00 AM | Lessons |
| 12:00 PM | Lunch |
| 12:45 PM | Class (History of the Keyboard) |
| 1:15 PM | Practice |
| 2:15 PM | Faculty Masterclass |
| 3:30 PM | End-of-Day Activity |
Ages: 7-12

Dates: July 31 – Aug 4, 2023
9:00 am – 4:00 pm

Tuition: $582

Location: Mason Fairfax Campus, Harris Theater
Application
An application and successful video audition are required to participate in this program. Please complete the below online application form and follow audition video submission instructions. See Audition Material below:
One unedited piece that best demonstrates your ability.
Both hands and face/profile must be visible at all times
Early Application Deadline is April 7, 2023, with Decisions by April 14, 2023. Regular Application Deadline is May 5, 2023, with Decisions by May 12, 2023. Applications submitted after May 5, 2023 will be considered as space permits.
---
Program Faculty
Dr. Michelle Richardson
Director
Piano Teaching Artist
Read more about Dr. Richardson
Dr. Michelle Richardson recently graduated with her Doctoral of Music in Piano Performance from George Mason University in 2022. Her research of the history and performance practice of piano intermezzos is the first published study of this title as a genre in piano music. Highlights of her solo and chamber performances include her solo debut with the George Mason Symphony Orchestra playing Rachmaninoff's Piano Concerto No. 2, chamber recitals at the Lyceum in Alexandria, the "Music with the Angels" Concert series at the Church of the Holy City, Fairfax County "Spotlight on the Arts" festival, as well as at George Mason's All-Steinway Concerts and ARTS By George series. In the summer of 2010, Michelle was invited to attend the Orfeo International Music Festival in Vipiteno, Italy. There, she was featured on multiple programs as a soloist and was a finalist in the Orfeo International Music Competition. In May of 2013 and 2016, Michelle was a featured in the GMU School of Music Honors Recital. In August of 2015 she was on faculty at the Corcoran Chamber Music Institute (formerly known as the Summer Piano and Chamber Music Institute at George Washington University). She has served as a graduate lecturer at George Mason University, teaching keyboard classes throughout from 2015-2018. In August of 2016-2022 she codirected the Summer Piano Academy Program, a Mason Community Arts Academy summer camp for piano students of various levels that takes place in the School of Music at Mason.
Masha Feygelson
Faculty
Academy Teaching Artist
Read More
Masha Feygelson began her musical studies in Moscow and has extensive experience working with children, both as an instructor in a classroom setting and as a private music teacher. Since joining the MCAA faculty in 2013, Ms. Feygelson has built a flourishing studio of young pianists whose levels range from beginner to advanced.
Ms. Feygelson has performed as a piano soloist and chamber musician both in the United States and abroad. She has received accolades in competitions including the Duquesne National Young Artist Competition in Pittsburgh, the American Fine Arts Festival in New York City, and the Orfeo International Music Festival in Vipiteno, Italy. She has also performed in the ARTS! by George series at GMU and the GMU School of Music Honors Recital.
Ms. Feygelson attended Levine School of Music in Washington D.C., and Interlochen Arts Academy in Michigan, studying piano with notable teachers Anna Ouspenskaya, Dr. Michael Coonrod, and Ya-Ting Chang. She received her Bachelor of Music and Master of Music in Piano Performance from George Mason University, where she studied with Dr. Anna Balakerskaia. Ms. Feygelson also began her foray into vocal study in the George Mason jazz program with Dr. Darden Purcell, and has also studied with operatic soprano Fabiana Bravo and holistic vocal coach Tiffaney Moore Borgelin.
In addition to teaching and performing, Ms. Feygelson also works as an accompanist, church pianist, and vocalist in the D.C. metropolitan area.
Mark Irchai
Faculty
Piano Teaching Artist
Read more about Mr. Irchai
Mark Irchai (b.1996) is an American-Russian pianist and conductor. His concertizing has taken him across the United States and Europe, where he has become known for his diverse musical programming and multi-colored sound. He's already received numerous awards, including 1st prizes at the XIV International Orfeo Music Competition, the George Mason University Concerto Competition, and the Golden Classical Awards International Music Competition. Most recently, he was awarded the Newton Swift Award in Collaborative Piano by the Mannes School of Music. Highlighted performance venues include Weil Recital Hall at Carnegie Hall, Steinway Hall, George Mason University's Center for the Arts, the Embassy of Turkey to the United States, and two appearances at DOROT for their innaugural concert series for survivors of the Holocaust.
Equally comfortable in both solo and collaborative work, he's performed with many orchestras and in collaboration with several singers and instrumentalists. Ensemble appearances as conductor and soloist include joining soloist the Mason Symphony Orchestra, the Mason Wind Symphony, and the Piedmont Symphony Orchestra. He's also appeared as collaborative pianist with artists like Vasilisa Berzhanskaya, John Aler, and Marlisa Woods.
Mark holds a BM in Piano Performance from George Mason University, where he studied piano and chamber music with Anna Balakerskaia. He also holds an MM in Piano Performance from the Mannes School of Music, where he studied with Simone Dinnerstein. He has appeared in masterclasses with artists such as George Li, Awadagin Pratt, Claire Huangci, and Richard Goode. He studied choral and symphonic conducting at George Mason as well as at the International Academy of Advanced Conducting after Ilya Musin. Mark is proud to be on the faculty of both Levine Music in Washington DC,
and at the Moon School of Music in Fairfax, VA.
Dr. Misha Tumanov
Instructor
Academy Teaching Artist
Read More
Born in Ukraine, Misha Tumanov started his musical education in Costa Rica at the Instituto Superior de Artes and the Pre-College Program of the National University studying with Dr. Alexandr Sklioutovsky. After Mr. Tumanov graduated with honors from the National University at age seventeen, he continued his studies with Dr. Ray Kilburn at Ball State University, receiving a Master's Degree and Artist Diploma in piano performance. Currently, Mr. Tumanov is a Doctoral Candidate at the University of Maryland, under Dr. Larissa Dedova, where he is recording works of the early Soviet Avant-garde, including Shostakovich, Prokofiev, Myaskovsky, Feinberg, and Roslavets.
Mr. Tumanov has taught in the DC area since 2010. Previously, he taught at the National University of Costa Rica, the Instituto Superior de Artes, and Ball State (both private lessons and group classes). Mr. Tumanov has also taught group classes at George Mason University and the University of Maryland. He has been often invited back to Costa Rica to work with students preparing for competitions and major performances, most notably the International Competition of Slav Music 2009 and 2010, where the students received two Second Prizes and one Third Prize. Mr. Tumanov's students have performed at the Carnegie Hall, Kennedy Center, as well as prominent local venues.
Mr. Tumanov's experience as a teacher ranges from 4-year-old beginners to advanced adults. Mr. Tumanov is passionate about guiding his students to find their own artistic voice and discovering the joy of music.
Mr. Tumanov has participated in masterclasses with such distinguished pianists and teachers as Gyorgy Sandor, Alexander Braginsky, Alexander Kobrin, Jerome Rose, and Jonathan Biss. In 2006 he released a CD featuring works by Bach, Mozart, Chopin, Schumann, and Rachmaninov.
Mr. Tumanov is a frequent performer at festivals and conferences, both as a solo and collaborative pianist, including the International Double Reed Society conference, MTNA, Piano Technicians Guild, and Orfeo Music Festival in Italy. He has been a featured soloist with the National Symphony Orchestra of Ukraine, the National and Youth Symphony Orchestras of Costa Rica, as well as the Ball State Symphony Orchestra. Mr. Tumanov has won numerous awards and competitions, including second place at the East-Central Division of the MTNA National Competition, the Indianapolis Matinee Musicale, and 1st Prize at the Pinault International Competition in New York.
In addition, Mr. Tumanov is the pianist/organist and Concert Series Coordinator at the United Christian Parish in Reston, VA.
Kristina B. Ratcliffe
Faculty
Read more about Ms. Ratcliffe
Kristina B. Ratcliffe is a recent undergraduate from George Mason University, where she studied under the mentorship of Dr.Anna Balakerskaia. From a young age, Kristina flourished as a soloist in India, studying under Svetlana Radashkevich,
with whose guidance she received her erformance diploma in 2018 before coming to the United States for higher education. In addition to her time as a performer, Kristina always had a natural inclination towards mentoring other young
musicians which led to the opening of her private studio for all ages and nations in 2018, teaching in-person and online.
Kristina's most impactful performances have been given nationally and internationally. In India, she was a regular guest artist for the Associated Board of the Royal Schools of Music Concerts in New Delhi, Lucknow and Mumbai. She and her mother created a non-profit organization in 2014 called The Russian House Foundation, for which Kristina gave benefit concerts to fundraise money, and feed, provide clothing and educate economically deprived children living in slums. More recently, the Foundation has been able to expand and build a school. This outreach program has been a large and significant part of Kristina's life and is something which has helped to shape her philosophy in life and as a musician.

Since beginning her studies at George Mason University, Kristina has been a featured soloist in the school's Honors Recital, Arts by George, and the annual Grand Piano Celebration. She has also participated in recitals through the Friends of Music Series, and the Osher Lifelong Learning Institute. Of particular note is Kristina's debut with the George Mason Symphony Orchestra under the baton of Dennis Layendecker, performing Beethoven's Piano Concerto No.2.

From her Sophomore year at college, Kristina has taught instrumental accompaniment classes at George Mason University as Dr. Balakerskaia's assistant, and continues to do so. During the COVID lockdown, Kristina joined Mason Arts Academy and worked online as a piano teacher for students both in the US and abroad. Her private students have received distinctions and merits in the ABRSM exams for performance and music theory.
Luke Ratcliffe
Faculty
Read more about Mr. Ratcliffe
Acclaimed pianist and composer Luke Ratcliffe has appeared as a soloist nationally and internationally, giving diverse solo recitals and performing as a frequent chamber musician in
concert series across the United States. A Virginia native, he began his musical studies at
thirteen when he discovered his great love for music. After high school, Luke attended The
Juilliard School in New York City. During his time in New York he was a Fellow in the Gluck
Foundation, an association which seeks to integrate the arts into the web of social life, giving
benefit concerts and raising money for hospitals, schools, and city programs. He has played in
Carnegie Hall, The John F. Kennedy Center for the Performing Arts, The Strathmore Hall, The Banff
Music Center in Calgary, among others. Recently, Steinway & Sons invited Luke to play a concert at
the Omni Shoreham Hotel, after which the new Spirio piano was revealed.

Additionally, Luke is a National YoungArts Alumnus, a foundation which seeks to identify and
nurture the most accomplished young artists in the visual, literary, design and performing arts,
and assist them at critical junctures in their educational and professional development. He has
taken part and won prizes in a variety of national and international competitions and is also a
past guest artist of the Franz Liszt Society.
He continued his education, earning his masters degree from George Mason University, where he
notably gave lecture recitals on wide-ranging topics as well as concerto performances after winning the university's competition.

Recently, he was invited to play as concerto soloist with the Lakeside Symphony Orchestra under the
baton of Maestro Daniel Meyer during the Lakeside Summer Festival in August of 2022.
Luke is currently a doctoral student at the Cleveland Institute of Music as a Judson Artist in
Residence and is studying with Antonio Pompa-Baldi.

As a composer, Luke began writing music at Juilliard, and in the 2017 season, he was commissioned to score Pulitzer Prize and Tony-winning playwright Arthur Kopit's play "Chamber Music", which premiered in Brooklyn as an off-Broadway show through the Fall of 2017. Luke regularly works with other composers and gives premieres of new music.

An avid teacher, Luke has always enjoyed teaching and maintained the pedagogical methods passed
down to him from his teachers. He has been on the piano faculty for the Moon School of Music and George Mason University's Arts Academy. Additionally, he has adjudicated youth piano competitions and given masterclasses for various students.
---
Notes
Please note that group classes are subject to cancellation if minimum enrollment is not reached.
Be sure to check our policies and procedures regarding registration, withdrawals, refunds, and more for fall or spring group classes.
All students will receive a Welcome Letter via email at least 1 week before the class starts with all necessary details.
Online registration closes 2 business days before the first class, however space may still be available. Please contact academy@gmu.edu for more information. A $10 late registration fee may apply.
For additional information, please contact the Academy at academy@gmu.edu.