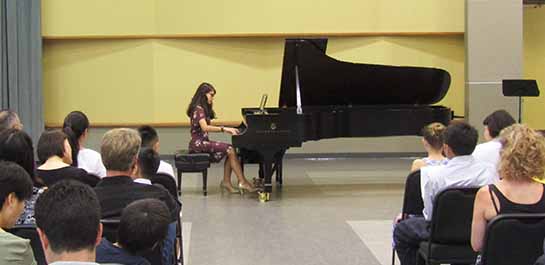 Summer 2021 registration will be open in March!
MASON SUMMER PIANO ACADEMY
Featuring Mason Community Arts Academy Teaching Artists, this program provides piano students with a week of focused musical study in an inspiring environment. Participating in private lessons, masterclasses, and music theory/history sessions, students will grow in their love of and enthusiasm for piano music. Guided practice sessions will help students to improve quickly.
NOTE: The skill level is from beginner (minimum 1 year of private lessons) to advanced, and students are grouped within the program according to their level and age.
Video Submission: submit one audition video of a piece no longer than 3-4 minutes in length. Videos should be sent to academy@gmu.edu by June 1 with the subject line "Piano Academy Audition – Week __ (1 or 2)".
Ages:  8 – 18 (Divided into two age groups)
Dates:  July 26 – 30, 2021 (Ages 8 – 12)  |  August 2 – 6, 2021 (Ages 13– 18)
Times:  9:00 am – 4:00 pm (M-F)
Tuition:  $555
Location:  Mason Fairfax Campus, deLaski Performing Arts Building
Application Deadline: Tuesday, June 1
*After Care not available for Summer 2021
Coming soon!
PROGRAM FACULTY
---

Director/ Instructor: Misha Tumanov
Academy Teaching Artist
Read about Mr. Tumanov
Born in Ukraine, Misha Tumanov started his musical education in Costa Rica at the Instituto Superior de Artes and the Pre-College Program of the National University, studying with Dr. Alexandr Sklioutovsky. After Mr. Tumanov graduated with honors from the National University at age seventeen, he continued his studies with Dr. Ray Kilburn at Ball State University, receiving a Master's Degree and Artist Diploma in piano performance. Currently, Mr. Tumanov is a Doctoral Candidate at the University of Maryland, under Dr. Larissa Dedova, where he is recording works of the early Soviet Avant-garde, including Shostakovich, Prokofiev, Myaskovsky, Feinberg, and Roslavets.
Mr. Tumanov has taught in the DC area since 2010. Previously, he taught at the National University of Costa Rica, the Instituto Superior de Artes, and Ball State (both private lessons and group classes). Mr. Tumanov has also taught group classes at George Mason University and the University of Maryland. He has been often invited back to Costa Rica to work with students preparing for competitions and major performances, most notably the International Competition of Slav Music 2009 and 2010, where the students received two Second Prizes and one Third Prize. Mr. Tumanov's students have performed at the Carnegie Hall, Kennedy Center, as well as prominent local venues.
Mr. Tumanov's experience as a teacher ranges from 4 year-old beginners to advanced adults. Mr. Tumanov is passionate about guiding his students to find their own artistic voice and discovering the joy of music.
Mr. Tumanov has participated in masterclasses with such distinguished pianists and teachers as Gyorgy Sandor, Alexander Braginsky, Alexander Kobrin, Jerome Rose, and Jonathan Biss. In 2006 he released a CD featuring works by Bach, Mozart, Chopin, Schumann, and Rachmaninov.
Mr. Tumanov is a frequent performer at festivals and conferences, both as a solo and collaborative pianist, including the International Double Reed Society conference, MTNA, Piano Technicians Guild, and Orfeo Music Festival in Italy. He has been a featured soloist with the National Symphony Orchestra of Ukraine, the National and Youth Symphony Orchestras of Costa Rica, as well as the Ball State Symphony Orchestra. Mr. Tumanov has won numerous awards and competitions, including second place at the East-Central Division of the MTNA National Competition, the Indianapolis Matinee Musicale, and 1st Prize at the Pinault International Competition in New York.
In addition, Mr. Tumanov is the pianist/organist and Concert Series Coordinator at the United Christian Parish in Reston, VA.
TESTIMONIALS
---
"My daughter enjoyed the keyboard repertoire class and the private lessons."―Mason Summer Piano Academy 2019 Parent
See More Testimonials
"My favorite part was the four semi-private (2 students) professional lessons. I also loved the t-shirt that the students received. Kudos to the designer." – Mason Summer Piano Academy 2018 Parent
"I really appreciated the opportunity provided for my child to see a wide variety of style and performance." – Mason Summer Piano Academy 2017 Parent
"My favorite part was getting a chance to work with new teachers and to meet other kids very interested in piano." – Mason Summer Piano Academy 2017 Participant
Be sure to check our policies and procedures regarding withdrawals, refunds, and more for summer programs.
All students will receive a Welcome Letter via email at least 1 week before the program starts with all necessary details including drop off, pick up, what to bring, etc. Feel free to contact the Academy office with questions at academy@gmu.edu.
Questions about parking on campus? Find answers here.
COVID Safety Guideline: Please be assured that all in-person programs will follow strict safety protocols required by George Mason University and are subject to pivoting to all virtual platforms if health and safety conditions warrant. Stay informed by visiting our website and looking out for email alerts and other Academy communications.