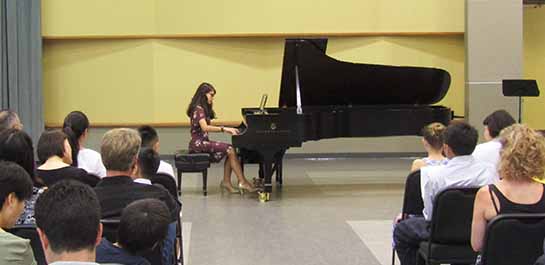 Summer 2021 registration will be open in February!
MASON SUMMER PIANO ACADEMY
Featuring Mason Community Arts Academy Teaching Artists, this program provides piano students with a week of focused musical study in an inspiring environment. Participating in private lessons, masterclasses, and music theory/history sessions, students will grow in their love of and enthusiasm for piano music. Guided practice sessions will help students to improve quickly.
NOTE: The skill level is from beginner (minimum 1 year of private lessons) to advanced, and students are grouped within the program according to their level and age.
LEVEL UP: More experienced students from ages 10 throughout 18 with a minimum of 3 years of piano lessons should also consider Summer Piano Academy (Advanced) for week August 3–7!
Ages:  8 – 12
Dates:  July 26 – 30, 2021
Times:  10:00 am – 4:00 pm (M-F)
Tuition:  $445
Location:  Mason Fairfax Campus, deLaski Performing Arts Building
*After Care not available for Summer 2021
Coming soon!
PROGRAM FACULTY
---

Co-Director/ Instructor:  Michelle Richardson


Instructor: Faith Zúñiga

Co-Director/ Instructor: Misha Tumanov


Instructor: Andy Miller
Read about Mr. Miller
Andrew Miller, a native of Springfield, VA, is an accomplished pianist whose versatility and commitment to musicianship are exhibited by his active participation as a soloist, accompanist, chamber musician, and instructor in the Northern Virginia area. Andrew is a current third-year doctoral candidate of the D.M.A program in Piano Performance at George Mason University and has had the privilege of studying with Dr. Anna Balakerskaia since 2010. During his studies at Mason, Mr. Miller was selected as a winner of the 2016 GMU Concerto Competition and performed for the Scholarship Benefit Concert with the Mason Symphony Orchestra in May of that year. Mr. Miller was a winner of the GMU Concerto Competition in 2013 and performed Gershwin's Rhapsody in Blue in the Young Masters Concert before the completion of his Master of Music in Piano Performance in May 2013. He participated as a performer and chamber musician in the Orfeo International Music Festival held in Vipiteno, Italy in 2011.
In May 2010, Mr. Miller graduated Cum Laude with a Bachelor of Music in Piano Performance from Christopher Newport University. Under the tutelage of CNU professors, Dr. Jeffrey Brown and Dr. Amanda Halstead, Mr. Miller won the CNU Concerto/Aria Competition twice and was given the privilege of performing Beethoven's "Third Piano Concerto" and Gershwin's "Concerto in F" with the Christopher Newport University Orchestra. In addition to his orchestral recognition, Mr. Miller received first place in the annual Friends of Music Scholarship Recital and was nominated two times for the "People's Choice" Award. He has performed various musicals for Theater CNU including the production of Urinetown (2007) as a member of the "Pit Stop Band" and was Assistant Musical Director for their production of Little Shop of Horrors (2008). During the spring of 2009, he was chosen by the faculty and was inducted into the honorary music fraternity Pi Kappa Lambda, which recognizes students for their advanced academic and musical accomplishments. In addition to his keyboard experiences, he enjoyed playing trombone as a member, and later as a drum major (2009), of the CNU Marching Captains.
Today, Mr. Miller works alongside keyboard professors as graduate lecturer at Mason, maintains a private studio of 30 local students, as well as working as a vocal coach/accompanist for Mason's private voice studios (since 2011), VA Hills Baptist Church (since 2012), and the Eastern Virginia School for the Performing Arts (2009-2010). In addition to his professional coaching, Mr. Miller has appeared as a soloist/accompanist for the concert series "Music for the Angels" at the National Swedenborgian Church in Washington D.C and is a current recipient of the Linda Monson Endowment Scholarship at George Mason University.
TESTIMONIALS
---
"My daughter enjoyed the keyboard repertoire class and the private lessons."―Mason Summer Piano Academy 2019 Parent
See More Testimonials
"My favorite part was the four semi-private (2 students) professional lessons. I also loved the t-shirt that the students received. Kudos to the designer." – Mason Summer Piano Academy 2018 Parent
"I really appreciated the opportunity provided for my child to see a wide variety of style and performance." – Mason Summer Piano Academy 2017 Parent
"My favorite part was getting a chance to work with new teachers and to meet other kids very interested in piano." – Mason Summer Piano Academy 2017 Participant
Be sure to check our policies and procedures regarding withdrawals, refunds, and more for summer programs.
All students will receive a Welcome Letter via email at least 1 week before the program starts with all necessary details including drop off, pick up, what to bring, etc. Feel free to contact the Academy office with questions at academy@gmu.edu.
Questions about parking on campus? Find answers here.