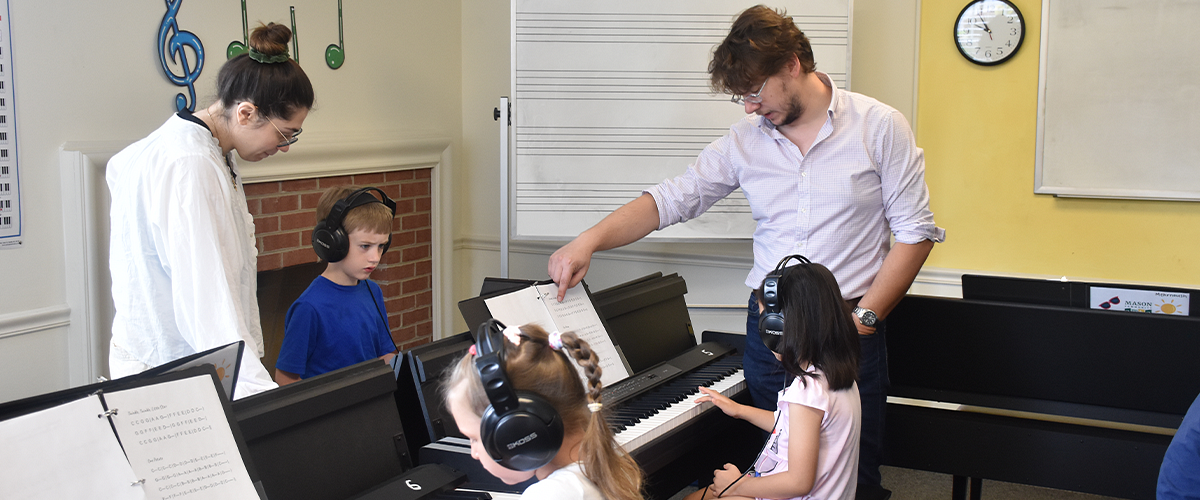 Overview
In this fun one-week program, students will be introduced to the piano, musical notation, rhythm, fingering, and the musical alphabet through games and exercises. They will learn songs on the piano and perform in class groups. One part of the program time will be spent in the piano lab (one child per piano), and the other will be in an open classroom space where students will explore other musical activities through singing and movement. Students will be introduced to classical composers and different musical genres, and they will compose their own short pieces to perform in a final presentation.
This program is a great starter course for our Piano Discoveries Level 1 and Level 2 group classes offered in the Fall and Spring semesters.
Students are asked to bring a nut-free snack and water bottle.
Ages: 6-9

Dates:
Section 1: July 17 – 21, 2023, 9:00 am – 12:00 pm
Section 2: July 24 – 28, 2023, 9:00 am – 12:00 pm

Tuition: $280

Location: Mason Community Arts Academy Building in Fairfax, VA
---
Program Faculty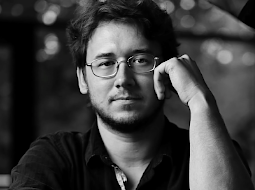 Dr. Misha Tumanov
Instructor & Academy Teaching Artist
Read More
Born in Ukraine, Misha Tumanov started his musical education in Costa Rica at the Instituto Superior de Artes and the Pre-College Program of the National University studying with Dr. Alexandr Sklioutovsky. After Mr. Tumanov graduated with honors from the National University at age seventeen, he continued his studies with Dr. Ray Kilburn at Ball State University, receiving a Master's Degree and Artist Diploma in piano performance. Currently, Mr. Tumanov is a Doctoral Candidate at the University of Maryland, under Dr. Larissa Dedova, where he is recording works of the early Soviet Avant-garde, including Shostakovich, Prokofiev, Myaskovsky, Feinberg, and Roslavets.
Mr. Tumanov has taught in the DC area since 2010. Previously, he taught at the National University of Costa Rica, the Instituto Superior de Artes, and Ball State (both private lessons and group classes). Mr. Tumanov has also taught group classes at George Mason University and the University of Maryland. He has been often invited back to Costa Rica to work with students preparing for competitions and major performances, most notably the International Competition of Slav Music 2009 and 2010, where the students received two Second Prizes and one Third Prize. Mr. Tumanov's students have performed at the Carnegie Hall, Kennedy Center, as well as prominent local venues.
Mr. Tumanov's experience as a teacher ranges from 4-year-old beginners to advanced adults. Mr. Tumanov is passionate about guiding his students to find their own artistic voice and discovering the joy of music.
Mr. Tumanov has participated in masterclasses with such distinguished pianists and teachers as Gyorgy Sandor, Alexander Braginsky, Alexander Kobrin, Jerome Rose, and Jonathan Biss. In 2006 he released a CD featuring works by Bach, Mozart, Chopin, Schumann, and Rachmaninov.
Mr. Tumanov is a frequent performer at festivals and conferences, both as a solo and collaborative pianist, including the International Double Reed Society conference, MTNA, Piano Technicians Guild, and Orfeo Music Festival in Italy. He has been a featured soloist with the National Symphony Orchestra of Ukraine, the National and Youth Symphony Orchestras of Costa Rica, as well as the Ball State Symphony Orchestra. Mr. Tumanov has won numerous awards and competitions, including second place at the East-Central Division of the MTNA National Competition, the Indianapolis Matinee Musicale, and 1st Prize at the Pinault International Competition in New York.
In addition, Mr. Tumanov is the pianist/organist and Concert Series Coordinator at the United Christian Parish in Reston, VA.
Mehrnoush Aghagholizadeh
Instructor & Academy Instructor
Read More
Mehrnoush Aghagholizadeh was born in Tehran, Iran, she began her musical journey by taking the Orff method classes for children at the age of six. She was introduced to different music instruments such as xylophones, metallophones and glockenspiels plus singing and dancing. At the age of seven she started taking piano lessons with Reza Elhamian, a graduate of the Goldsmiths University in London, UK. Mehrnoush got her bachelor's degree in piano performance from the University of Art and Architecture where she worked with the renowned Armenian pianist Gagik Babayan. During her years in Tehran she was active as a piano teacher, chamber and solo musician.
Mehrnoush holds a second bachelor's degree in piano performance from the University of Central Florida where she studied with Dr. Yun-ling Hsu. In Florida she continued performing, accompanying as well as teaching as a private teacher and group piano lessons instructor. She had numerous performances with the UCF piano department. She had the opportunity to perform at the Dr. Phillips Center for the Arts in Orlando, FL. She had the privilege to attend master classes around the world with the great concert pianists such as Oleg Poliansky, Kevin Ayesh, Andre Laplante and David Gross.
Mehrnoush is currently doing her master's degree in Piano Pedagogy at the George Mason University studying with Dr. Anna Balakerskaia. She wants to be a solo pianist as well as being a full-time piano teacher because she considers teaching as her passion. Teaching at the UCF summer camp 2017 with Dr. Yun-ling Hsu, was a life changing experience for her, where she had the chance to work with a group of students from early childhood to pre-college for two weeks working on piano technique, theory and ear-training as well as performer wellness. Mehrnoush is currently based in Falls Church, VA where she works as a part-time piano instructor.
---
Notes
Please note that group classes are subject to cancellation if minimum enrollment is not reached.
Be sure to check our policies and procedures regarding registration, withdrawals, refunds, and more for fall or spring group classes.
All students will receive a Welcome Letter via email at least 1 week before the class starts with all necessary details.
Online registration closes 2 business days before the first class, however space may still be available. Please contact academy@gmu.edu for more information. A $10 late registration fee may apply.
For additional information, please contact the Academy at academy@gmu.edu.