Last Saturday, local music teachers joined Mason Community Arts Academy staff at Day Violins for a special IiA Gotcha Day, hosted by Day Violins owner and MCAA Board Member Jenna Day.
–
–
As part of the event, luthier Ben Jones-Hayes led an excellent string instrument repair workshop for the teachers, demonstrating basic instrument repairs, teaching them solutions for instrument emergencies in the classroom, and discussing the intricacies of string instrument construction and restoration.
–
–
Afterwards, teachers shared ideas and thoughts on how IiA can continue to better serve our local schools' string programs and the community. At the end of the event, string instruments from the IiA collection previously repaired by Day Violins technicians were made available for the teachers to take back to their string programs for students in need.
–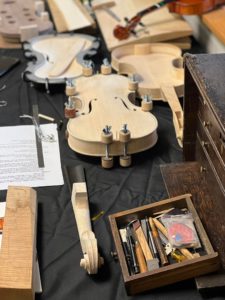 –
Thanks so much to everyone involved in making this a great community event, especially Day Violins for hosting!
LEARN MORE ABOUT OUR INSTRUMENTS IN THE ATTIC OUTREACH PROGRAM