Note: Please help us congratulate Candy on her retirement and share your favorite memories as we are working on a digital album. Please share your comments HERE. (Submission Deadline: Friday, September 11)
If you or your family have been longtime Academy students, then you are familiar with this greeting. Walking into the Academy, you were met with not one, but two smiling faces—Candy Neukam and Roxy, her adorable sidekick, a certified therapy dog, and the Academy's unofficial mascot. We are both delighted and disheartened to share that Candy has retired after 13 years with the Academy.
Candy has been an integral part of the Academy since she joined the organization in 2008. Throughout the years, Candy has fulfilled many roles and responsibilities that helped the Academy's growth from a small summer arts program to a year-round community arts organization with more than 3,800 participants.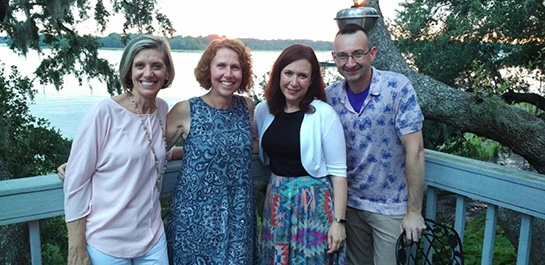 "Trying to share a few words about Candy is virtually impossible because her contributions to the Academy have been immense," said Elizabeth Curtis, the Executive Director of the Academy. "The 'backbone' of an organization should be its employees and the work they do to develop and strengthen the practices and relationships that make an organization a success. Candy has been the backbone, the thighbone, the radius, and all the other parts that make up our wonderful organization. She has been there from the very beginning, helping build the necessary structures to accomplish our impactful work. But most importantly, she has been, and always will be, a part of the Academy's heart and soul. We can't thank her enough."
"When AFYP joined forces with the Academy in 2012, I knew I would be working with an amazing team of colleagues, but I had no idea that they would become lifelong friends." Mary Lechter, Associate Director of the Academy and Founder of Acting For Young People, commented. "Candy's humor, wisdom, and guidance have had (and will continue to have!) a huge impact on me personally and professionally. Her incredible generosity and ingenuity have made the Academy what it is today."
"Candy is a highly personable and compassionate woman, dedicated to her family and self-evolution." Matt Geske, who worked alongside Candy since 2008, reflected on their years of teamwork. The pair, famously known as "Mandy," started as part-time staff and conquered numerous challenges as the Academy expanded.
"What I was always grateful for with Candy was that if I was struggling with understanding or doing a certain task, she would immediately step in to either teach me her approach or to shoulder the task herself," Matt added.
A longtime arts supporter, Candy enjoys attending concerts, theater showcases, and community arts events; volunteering with Mason's Friends of Music; and reading stories to young children at the Fairfax City Library with Roxy.
After retirement, Candy plans to travel, embrace new adventures, and catch up on all the things she loves in life. Please join us in thanking Candy for her dedication to the Academy and wish her a happy retirement. If you would like to share your warm wishes in our digital album for Candy, please click HERE to submit your comments. (Submission Deadline: Friday, September 11)