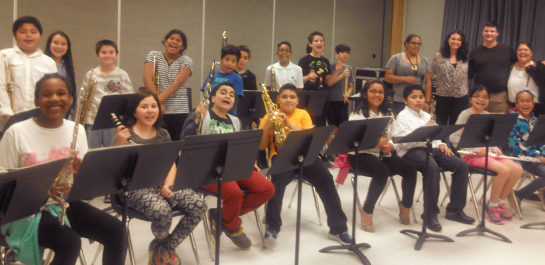 The Teaching Scholars program is a a community outreach initiative of the Academy which places select Mason Music students in local schools to help with their band/ orchestra programs. We have placed Teaching Scholars at Woodburn Elementary in Falls Church, VA for several years. The Mason students from last year provided some insights into the program and their experience.
The program ran from early November 2016 until mid-May 2017, equaling about 20 weeks of action for the scholars. Five Mason students were involved, four (two strings and two band) at Woodburn Elementary and one at Potomac Middle School in Dumfries. Donated musical instruments from the Academy's Instruments in the Attic program were also provided to help give children access to a meaningful music education.
"We are glad to have had the opportunity to teach in a public school prior to student teaching," stated Teaching Scholars Madeline Espigh and Matt Pazanowski. "We truly enjoyed making music with the Woodburn band kids, and it was a pleasure to work with the Woodburn teachers and staff."
"Students in the teaching scholars program get a glimpse of what teaching in a public school elementary classroom is like," said Teresa Amoroso, band director at Woodburn Elementary. "Learning how to interact with 9 to 11 year old musicians is very different than conducting in a [university] lab band."
"Through this program, I learned how to tailor my teaching to the needs of the students. It has given me new ideas and techniques for string teaching I can use in the future," explained Teaching Scholar Sophie Hedeen. "I remember reminding one of my students to bend his pinky on his bow hand, and he asked me why. I took this opportunity to teach the class about balance points in the bow and why the bow hold is the way it is. I didn't follow my lesson plan, but it was one of the most effective and useful things I taught them."
Thanks to all of our Teaching Scholars for their hard work and dedication to music education. We look forward to welcoming our next round of Scholars for the 2017-18 Teaching Scholars program!
LEARN MORE ABOUT THE TEACHING SCHOLARS PROGRAM