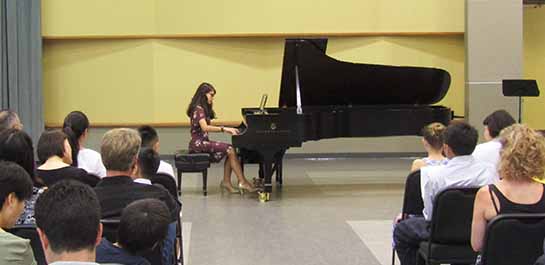 Building a community-oriented program has always been the core of our Piano Academy. This summer, the Piano Academy is bringing an interactive learning community straight to students' homes to continue this vision: creating rich musical experiences for students ages 8-18. While growing as musicians, they will also be supported by their peers as a community and have opportunities to connect with new musical friends!
Instrumental training for students who are taking private lessons can be isolating without peer interaction, especially during this particular time, when the students are taking virtual lessons at home. Program Director and Academy Teaching Artist Michelle Richardson is looking forward to creating a fun and interactive learning environment for the students. In the program, students will connect with other young pianists as well as professional piano teachers, through group class discussions, masterclasses, guided one-on-one instruction, and interactive activities.
She emphasized that the program will "allow piano students to see each other in a low-stress environment," where they can share their musical learning with classmates and a new set of instructors who will add new perspectives to students' piano study.
"Our pianists usually see other pianists at recitals or competitions, which are events where they are less likely to get to know one another," explained Ms. Richardson, a soloist and chamber musician in the Washington, D.C. area. "We hope to provide the same social environment in years past where students can meet each other, meet new teachers, and expand their knowledge of piano."
Throughout the week, students will learn several pieces of classical repertoire that are hidden gems and might be new those who are used to the traditional canon of piano pieces. Students will learn about composers from throughout musical history, including those who are traditionally neglected in performance – female composers and composers of color. Their significant contributions to the musical world will be brought into the light and given new life by Piano Academy students and faculty.
"Nowadays there are so many resources available about such a wide range of music and musicians," said Ms. Richardson, a doctoral candidate at Mason, who teaches keyboard classes at the college level. "It's up to teachers to make the extra effort to find them. I hope that these lecture classes also pique students' interest in finding great music by lesser-known composers!"
In addition to technique and musical theory and history, students will learn tips and tricks for on-camera performance. As many music competitions use video auditions in their preliminary elimination, the Piano Academy instructors will teach students how to perform on a virtual screen and overcome their nerves.
Alongside Ms. Richardson, esteemed piano teaching artists Misha Tumanov and Faith Zúñiga are on the Piano Academy faculty. All three faculty members have large private piano studios at the Academy, and numerous students have competed in regional and national competitions. In fall 2019, five students from the studios of Ms. Richardson, Mr. Tumanov, and Ms. Zúñiga performed in a recital at Carnegie Hall along with dozens of young performers from Costa Rica.
The Piano Academy will run in the week of July 27-31 and August 3-7. Students must have at least two years of private lesson experience. For program details, including class schedule, technology requirements, and faculty backgrounds, visit Piano Academy (Ages 8-18).