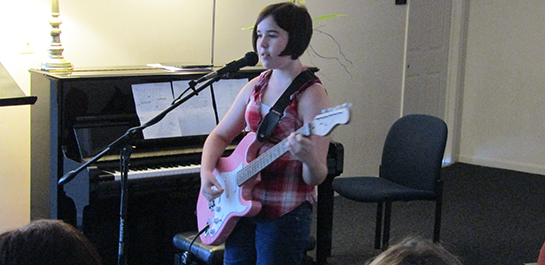 Do you love to sing? Have you ever written your own words or hummed a tune from your imagination? This summer, teenage musicians, ages 13-18, can transform their ideas into songs at the Singer/Songwriting Workshop Online (July 27-31). The workshop will provide a fun and supportive space for aspiring singers and songwriters to explore their creativity. They'll also have a glimpse of the songwriting industry through the eyes of a professional musician and contemporary songwriter.
In this online workshop, students will spend the first part of each day developing music fundamentals: building chord progressions, song structures, pulse and rhythm, concept mapping, and the basics of music theory. Then, students will work individually with Thom Routon, program instructor and Mason's Dewberry School of Music alumnus, to compose an original song from scratch.
"This workshop is for all students who love music," said Mr. Routon, instructor of the workshop. "Whether they have written songs on their own, are looking to improve their writing, or have an idea stuck in their head, the workshop will kick start their journey as a songwriter."
A professional musician, songwriter, and sound engineer, Mr. Routon plays violin, mandolin, and acoustic guitar and performs live shows throughout the Northern Virginia area. In 2016 Mr. Routon released his debut EP "In the Earth," featuring his creative work under the name Brother Kestrel.
With the belief that all ideas should be considered, Mr. Routon hopes to provide a welcoming environment for all songwriters to share their unique voices within the workshop. Students will expect to work collaboratively as active participants to provide feedback, suggestions, and encouragement.
"There is no such thing as a wrong answer!" said Mr. Routon. "I hope that this workshop will encourage students to express their sense of creativity and expand their knowledge of how music is made from start to finish."
The workshop will be held in the week of July 27-21, and a virtual release party will welcome families and friends to hear the students' creations on the last day of the workshop. For program details, including class schedule, technology requirements, and faculty biographies, visit Singer/Songwriting Workshop.