Selected young actors from Acting For Young People showcase programs attended an hour-long creative workshop, joined and facilitated by outstanding theater artists from the production "Cartography."
"Our Academy students have had two opportunities to work with Keneza and her company this year; once last spring in a digital space and again this fall, in-person," said Mary Lechter, Associate Director at the Academy and Assistant Professor in Mason's School of Theater. "These teaching artists are so generous with their creativity and energy! We are grateful for our connection with the Center for the Arts, and that our students have access to working professionals, who share their real-world experiences and enhance what we are teaching in our Academy programs."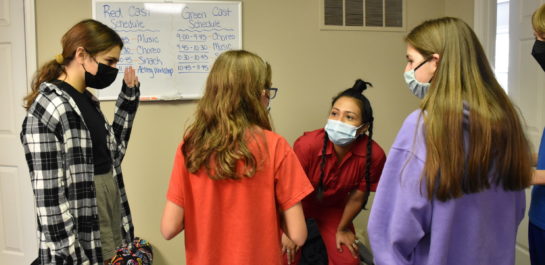 "Cartography" is created in collaboration with artist and arts education advocate Kaneza Schaal and writer Christopher Myers. The production follows five young refugees searching for a new place to call home. Schaal was named George Mason University's Artist-in-Residence 2021/2022.
Known for her collective creativity endeavors, Schaal instills and encourages her cast members to bring new ideas into their performance. The Academy's young actors received a glimpse of what it's like when everyone has an equal voice in theater production during the workshop.
The cast members divided the student group into four teams to create short plays while meeting challenge requirements, including incorporating the physical space and objects, using body movement to create depth or perspectives, and adding sound effects in the play.
With less than 15 minutes, each team created and rehearsed a short play to share with the crowd. Cast members led a circle discussion reflecting on their collaborative process, followed by the performances. Students engaged in an in-depth conversation sharing the importance of bringing unique ideas and perspectives to their plays and how to navigate through ideas, conflicts, and creativity.
"The most important takeaway from the workshop was the power of connection and collaboration," said Kaya Thomas, a returning actor in the fall musical showcase "Rockin' Robin Hood."
"All of the small groups we worked in were incredibly different, and each person brought different views, skills, ideas, and experiences to be shared. Even when we weren't creating our short performances, we all had in common: theater and the arts."
Young actor Hailey Strasbaugh shared that the workshop provided her with a new perspective of training on the stage and challenged her to be aware of her surroundings beyond her character and the plot.
"A lot of the activities we usually do in theater have to do with improv and learning about your character," said Strasbaugh. "It was really cool to try something new and put a little bit of everything into the activity, and I really had to think about every aspect that goes into performing, how I use the space and incorporate everyone and everything."
Throughout the conversation, many participants shared that the learning experience from the workshop had benefited them for their current showcase training and inspired them to cherish all the collaborative moments.
"Theater is the fastest way to make friends," said Thomas. "There's a shared common denominator between you and others. With each person you collaborate with, you both mutually teach each other and grow from these experiences together. It creates a supportive community full of passionate people, and getting to know one another quickly builds friendships between the ensemble."
"From the workshop, I learned new techniques and how to handle rejection that I had never really thought of before," said Strasbaugh. "I always love learning new methods of acting because they can be beneficial in the future, even when you least expect them to."