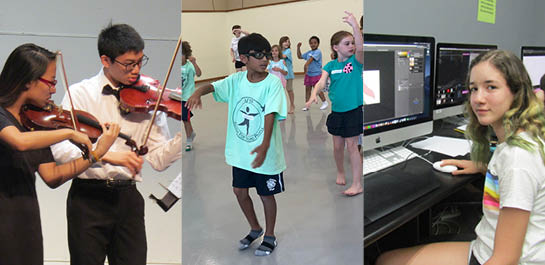 We are continuing our summer weekly programming with a variety of camps including a weekly themed acting camp, string instrument academy, film and video workshops, and art and animation camps. Students experienced a fun and interactive curriculum and made their final presentations to their families and friends. Here is an overview of the week from June 13-28
The weekly Acting Camp opens its first session with a theme of "The Enchanted Tales." Students, divided by age groups, developed a series of plays from some of our all-time favorite fairytales, and our theater staff worked with our students on their movement, voice, acting, and theater techniques, such as tableau, voice projection, and performance etiquette. To see more photos, visit HERE.
Ovations Summer Strings Academy
We welcomed more than 60 strings players for a week of intensive training for chamber music and orchestral performances. Students worked in small groups with an average of 3-5 people for a chamber music experience facilitated by notable regional or international music educators and musicians. The Ovations Summer Strings Academy had a compact schedule including more than five hours of hands-on practice each day; additionally, students participated in workshops daily for in-depth knowledge about their string instruments, playing techniques, and instrument repair. Guest artist Bridging the Gap, a string duo group featuring Violinist Peter Wilson and Double Bassist Aaron Clayx, provided an hour of fun performances and broke the silence with laughs and cheers. The week concluded with two concerts, which included a chamber music concert on Thursday and an orchestral concert on Friday, at the Harris Theatre. Guest conductors Mr. J.D. Anderson and Mr. Glenn Quader, led the Friday's concert and presented a few classical strings orchestral pieces such as "North Star to Freedom" by Soon Hee Newbold, "Brandenburg Concerto No.5, I. Allegro moderato" by J. S. Bach, "Palladio" by Karl Jenkins, "St. Paul Suite, I. Jig," by Gustav Holst, and "Hungarian Dance No. 5" by Johannes Brahms. To see more photos, visit HERE.
Eight children between ages 6-9 joined us for a week of learning to play the piano. Ms. Michelle Richardson, piano teaching artist, introduced our students to the world of music and taught the class a new component each day such as the keys, notes, posture, and rhythm. At the end of the week, student performed 2-3 piano songs respectively to their families. To see more photos, visit HERE.
We had a wonderful week exploring different art mediums with the Creative Art Discoveries students from water color to acrylic paint and food color, and the students made fun pieces of artwork throughout the week such as kites, tie-dye shirts, and paper sculptures. In the classroom, the students also learned some art principles from balance, emphasis, movement through various art mediums. Students also watched some animation films while they enjoyed their lunches. The camp concluded with an exhibit that showcased the artworks students made during the week. Families attended their final presentations to hear the students explaining their creative process and the meanings behind their art. To see more photos, visit HERE.
The film scoring summer program students had a full week learning about the history of film scoring and creating their own piece of scores. Mr. Vincent Oppido, Mason School of Music alumnus and Hollywood film and TV composer, led the program and introduced some famous film composers and their outstanding music to our students. After having some basic knowledge of film scoring, students were assigned to recreate a 3-5 minute score for a film clip from "Mission Impossible," "Toy Story," or "Frankenstein," and students also had the opportunity to share their work with the class and receive feedback before their final showcase on Friday. At the end of the program, parents and guests complimented students on their creative work, and Mr. Oppido shared the current trends and how to build a career in the film score industry with the families. To see more photos, visit HERE.
The new summer program—The Anime Art and Technology Camp—had a successful week of studying and making animation with our anime fans. The inaugural class learned the process of making an animation clip from creating the storyline to drafting the scenes. Students used cutting-edge software to create characters, construct animation, and voice over. To see more photos, visit HERE.
Students at the Screenwriting Workshop summer program developed some creative film scripts over the week with Mason Professor Amanda Kraus, who created an interactive and autonomous class setting for participants to write their scripts while having fun and making friends. Throughout the week, students worked on developing plots and characters and critiqued others' work to prepare for their final stage reading. All scripts will be sent to the filmmaking camp for middle and high schools, and four plays will be chosen to develop into films. Students, whose script are selected in the filmmaking camps, will have the opportunities to get involved in the production process. To see more photos, visit HERE.